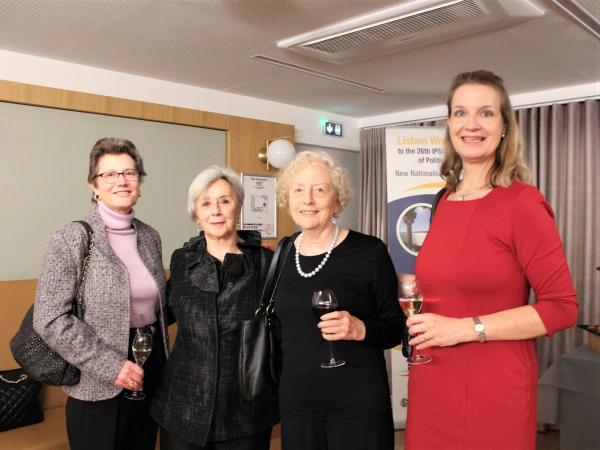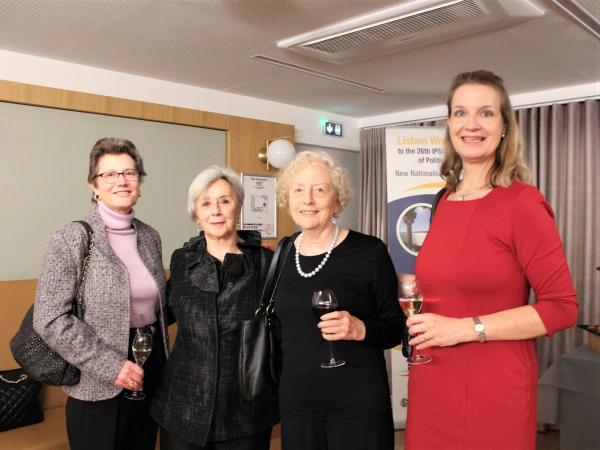 IPSA's Journey Towards Gender Equality
Publication date: Wed, 03 Mar 2021
Today is UN's International Women's Day. This year's theme is "Women in leadership: Achieving an equal future in a COVID-19 world" to celebrate women's efforts in shaping an equal future and recovery from the pandemic. According to early research, the COVID-19 pandemic has disproportionately affected women and gender equality. The figures demonstrate that we need to do more for gender equality and women in leadership.
On this occasion, we would like to share IPSA's advancement towards gender equality. IPSA has had a historic mission to create an inclusive and global political science community since 1949. For years, IPSA has been reinforcing necessary measures to implement gender equality in practice, developing policies, standards and preparing reports.  
Especially in the last 30 years, IPSA has witnessed an increase in female representation, with the election of four women presidents: Carole Pateman (1991-1994, UCLA, United States); Lourdes Sola (2006-2009, University of São Paulo, Brazil); Helen V. Milner (2012-2014, Princeton University, United States); and Marianne Kneuer (2018-2021, University of Hildesheim, Germany). The appointment of the first woman Executive Director was another milestone in IPSA's history. Kim Fontaine-Skronski took this key position after 9-consecutive male Secretaries-Generals from 1949 to 2019. We are proud that IPSA's current President and Executive Director are both women, and also that IPSA Secretariat has four women employees out of nine.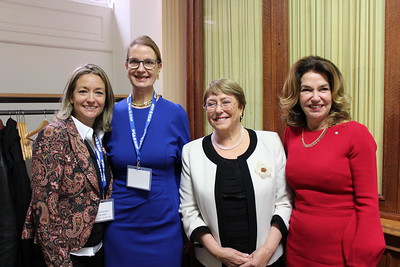 As part of IPSA's 70th-anniversary celebration in Paris, an academic conference was organized at La Sorbonne University in November 2019. Our keynote speakers for this special event were two prominent women on the international political scene: Michelle Bachelet (United Nations High Commissioner for Human Rights and former President of Chile) and Michèle Boisvert (Québec Delegate General in Paris).
*From left to right: Kim Fontaine-Skronski, Marianne Kneuer, Michelle Bachelet and Michèle Boisvert at IPSA's 70th Anniversary in Paris in November 2019.
Gender and Diversity Monitoring Report
In 2009, IPSA established a gender monitoring survey to track women's status in political science and strengthen their role in scientific research and organizations. Since then, IPSA has published three Gender and Diversity Monitoring Reports in 2011, 2013 and 2017. In these reports, IPSA evaluates gender balance in member associations, women representation in IPSA's leading governing bodies (Council, Executive Committee and Secretariat), and all IPSA activities such as the World Congress Summer Schools and Awards, but also diversity since the 2017 report.
In 2018, IPSA created the role of Special Representative for Gender and Diversity. This position, held by Prof. Yasmeen Abu-Laban of the University of Alberta, Canada, aims at gaining feedback from political scientists regarding gender and diversity  issues and how improvements can be made.
Changes in Rules and Procedures
In November 2019, the IPSA Executive Committee adopted changes in IPSA's Rules and Procedures to reflect the Association's historical gender and diversity approach. With these changes, gender and diversity become one of the main criteria in the election of IPSA President, Executive Committee and Council members. Additionally, IPSA rules now ensure a balanced representation of women in the World Congress and other IPSA events.
---
Interview with IPSA Past President Carole Pateman
In her successful career, Prof. Carole Pateman has o pioneered as the "first woman" in several academic positions and become one of the most influential advocates for participatory democracy and a prominent political theorist. On the occasion of her election thirty years ago, we are happy to feature an interview conducted by IPSA Executive Director Dr. Kim Fontaine-Skronski.

In this interview, Prof. Pateman talks about her efforts as the IPSA President in the 1990s to increase the number of women at the IPSA World Congresses and the committees. She says that she did shake things up during her tenure and helped IPSA become more modern and professional. Prof. Pateman has a message to women political scientists: If you are a woman and want to play an equal part in political science, just keep at it and keep butting your head against these brick walls until they start falling down. 
---
Women in the IPSA Team
IPSA Presidents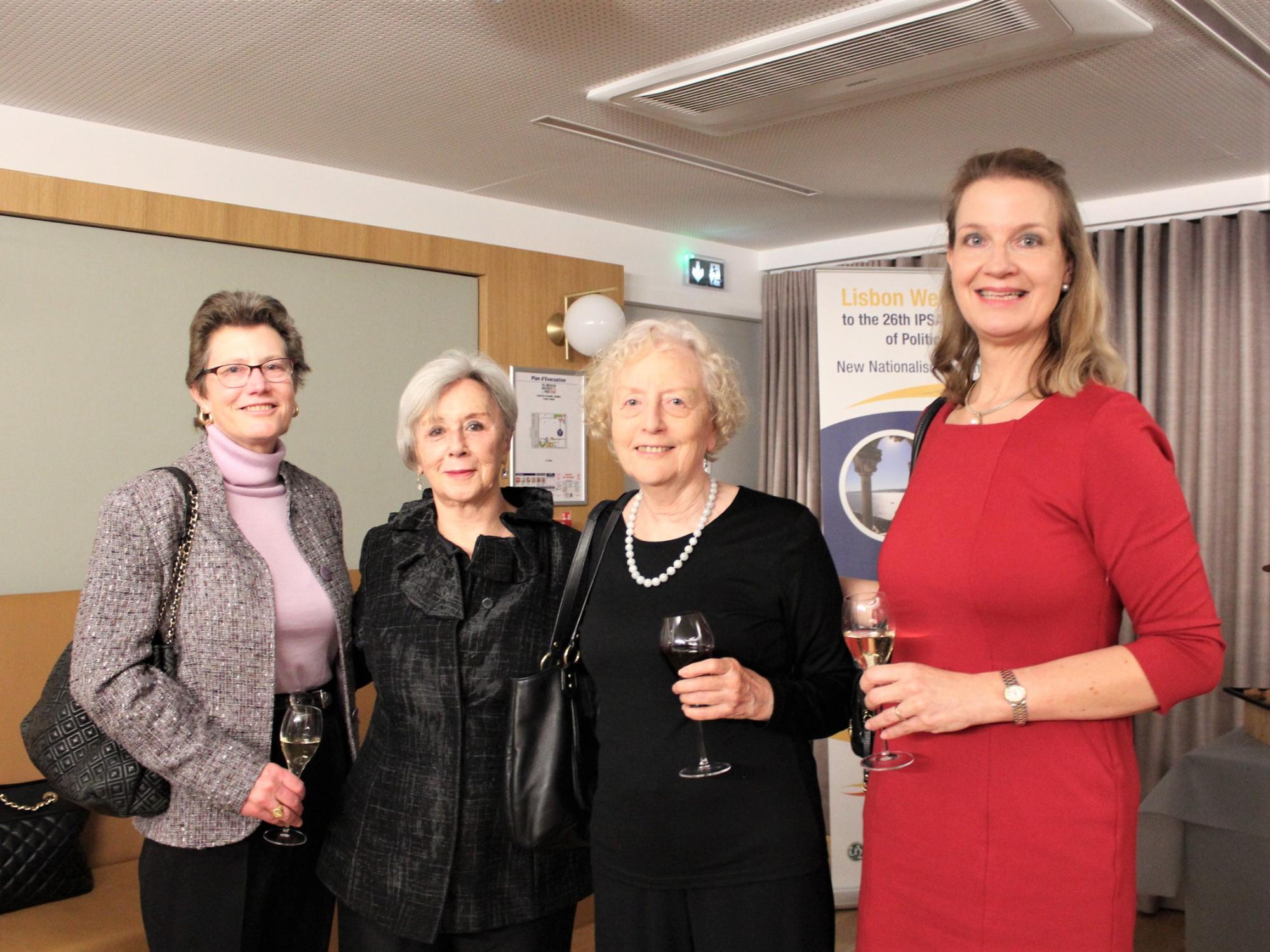 From left to right: Helen V. Milner, Lourdes Sola, Carole Pateman, and Marianne Kneuer are here gathered at IPSA's 70th Anniversary in Paris in November 2019.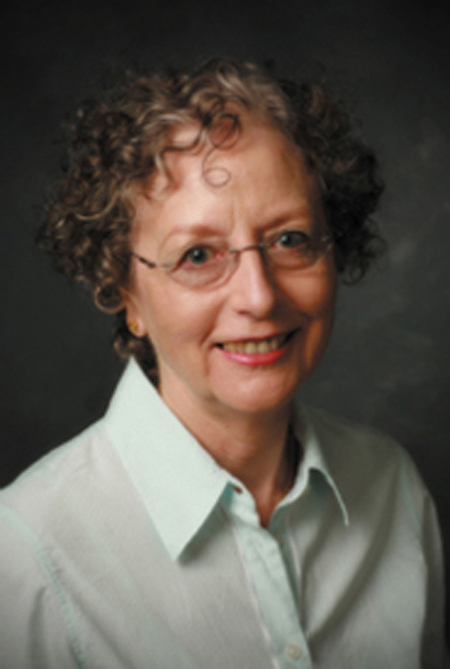 Carole Pateman (1991-1994)
The British-born Pateman, a political philosopher, graduated from Oxford and is currently teaching at the University of California, Los Angeles (UCLA). In 1970, her book Participation and Democratic Theory was published. It questioned the prevailing democratic theory on elite democracy while reconnecting with traditions of individual and collective participation. Her normative conclusion is that democracy progresses through participation. Pateman has become one of the most influential advocates for participatory democracy, and in her address at the American Political Science Association (APSA) in 2011, she returned to this topic. Subsequent publications include The Sexual Contract (1988) and The Disorder of Women (1989), which were marked by a radicalization of her research. In these books she takes a clearly feminist position to question the powerful social contract theory put forward by such philosophers as Hobbes, Locke and Rousseau. This work paved the way for unorthodox and original feminist research in political science. Issues of citizenship, consent, obligation and sex continue to play a prominent role in her writing. More recently, Carole Pateman has elaborated on the idea of a basic income attached to citizenship.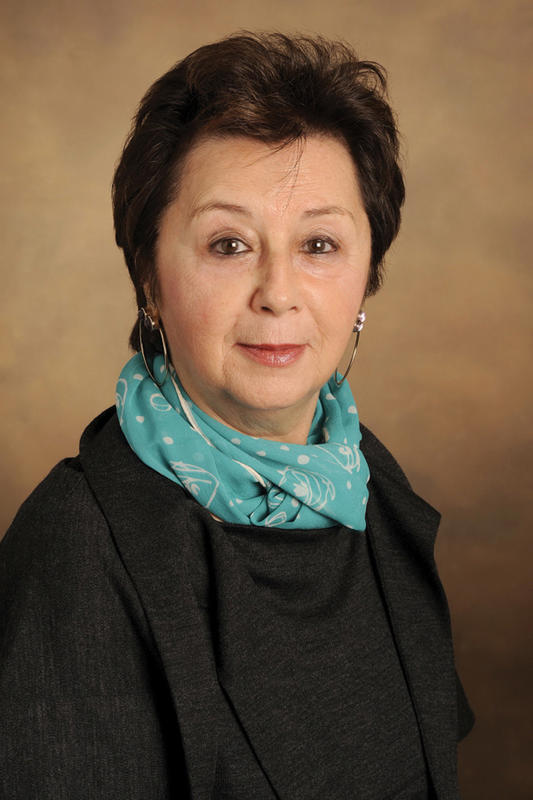 Lourdes Sola (2006-2009)
Lourdes Sola, Ph.D in Politics, University of Oxford, is professor (retired) of the Department of Political Science, University of São Paulo, and currently on the Executive Board of the Center for Public Policy, University of São Paulo, where she coordinates research projects on the Politics of Economic Transformation in Emerging Market Democracies.Currently she serves as member of the Advisory Board of the International Institute for Democracy and Electoral Assistance (IDEA); on the Board of Directors of the Global Development Network (GDN); and on the Executive Committee of the International Social Sciences Council (ISSC).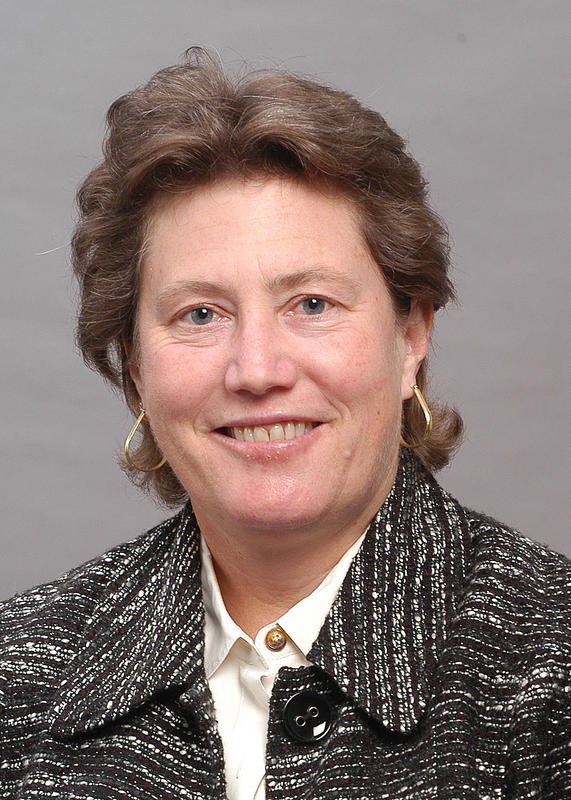 Helen V. Milner (2012-2014)
Helen V. Milner is the B.C. Forbes Professor of Politics and International Affairs at Princeton University and the director of the Niehaus Center for Globalization and Governance at Princeton's School of Public and International Affairs. She was the chair of the Department of Politics from 2005 to 2011. She is currently president of the International Studies Association (ISA) for the 2020-2021 term. She is a member of the National Academy of Sciences, the American Academy of Arts and Sciences, and the Council on Foreign Relations. She has written extensively on issues related to international and comparative political economy, the connections between domestic politics and foreign policy, and the impact of globalization on domestic politics.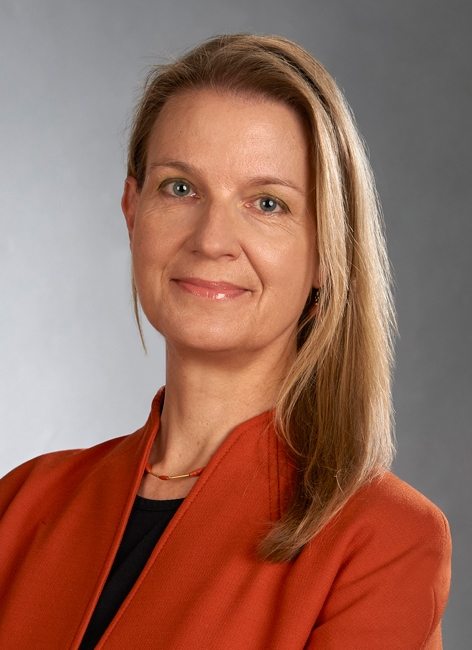 Marianne Kneuer (2018-2021)
Marianne Kneuer is Professor of Political Science and currently holds the position of Director of the Institute of Social Sciences at the University of Hildesheim, Germany. From 1993 until 1999 she was a member in the planning staff of the Federal President of Germany, Roman Herzog. Before that, she worked as a political journalist (1989-1993). Since 2007 she is a member of the Board of the German Society of Political Science; from 2011 until 2013 as president. She edits several books series and is co-editor of the Journal of Comparative Politics (Zeitschrift für Vergleichende Politikwissenschaft). Her primary field is comparative politics, especially democratization and democracy and autocracy studies, and secondarily fields of international relations: promotion of democracy and European Politics. Her geographical focus is Central Eastern and Southern Europe with extending interests to Latin America and Eastern Europe.
Secretariat