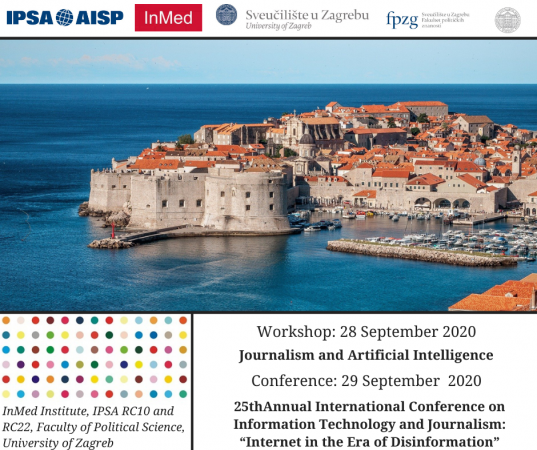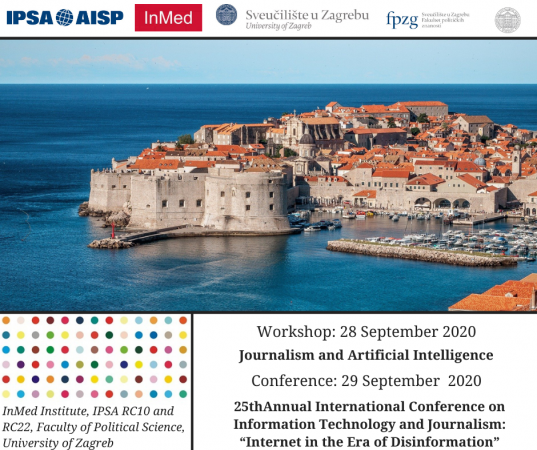 25th Annual International Conference on Information Technology and Journalism: "Internet in the Era of Disinformation"
Publication date: Mon, 14 Sep 2020
The 25th Annual International Conference on Information Technology and Journalism: "Internet in the Era of Disinformation" will be held in Dubrovnik, Croatia, on 29 September 2020. We are  pleased to announce Prof. Nichola D. Gutgold, from Penn State University, as the keynote speaker.
Information Technology and Journalism is one of the oldest conferences of the Inter University Center in Dubrovnik. For years, this conference has been following and predicting trends in Internet communication and its impact on human society.
As part of the conference, there will be also an IPSA-supported workshop that has been organized since 2010. This year's workshop, Journalism and Artificial Intelligence, will be held on 28 September and supported by IPSA Research Committee 10 - Electronic Democracy and Research Committee 22 - Political Communication. The workshop focuses on the relationship between journalism and Artificial Intelligence, as well as the impact AI generated content and AI controlled bots can have on public discourse and the shaping of public opinion.
Conference Venue: Inter-University Centre Dubrovnik (IUC) is an independent international institution for advanced studies structured as a consortium of universities with a mission to organize and promote contact and exchange through projects, study programs, courses and conferences across a wide range of scientific concerns. Program directors and resource persons coming from about  170 member universities worldwide cooperate in organizing the activities. IUC is open to new member institutions as well as to new programs.
Registration and Conference Fees:
All participants (presenters and non-presenters) must register to be able to attend the conference;
Paper presenters and co-authors: 120 Euros;
Students and non-presenters: 70 Euros.
PROGRAM
IPSA RC10 and RC22 supported workshop: "Journalism and Artificial Intelligence"
Interuniversity Centre Dubrovnik, Dubrovnik, Croatia, 28 September 2020
25th Annual International Conference on Information Technology and Journalism: "Internet in the Era of Disinformation"
Interuniversity Centre Dubrovnik, Dubrovnik, Croatia, 29 September 2020

WORKSHOP
Monday, 28 September 2020
9:00 – 9:15
Registration, Inter – University Center
9:15 – 10:00
Address speech by Organizing Committee
Presentation of the IPSA Digital Project (Domagoj Bebić, University of Zagreb)
SESSION 1
10:00 – 10:50
1. Marijana Grbeša – Zenzerović, University of Zagreb
TBA (LIVE)
2. Anamarija Musa, University of Zagreb
TBA (LIVE)
10:50 – 12:20
Keynote Lecture by Nichola D. Gutgold, Penn State University
TBA (ONLINE)
LUNCH BREAK
12:20 – 13:50
SESSION 2
13:50 – 15:05
1. Polish Mass Media Coverage and Public Opinion on E-democracy: Example of Electronic Voting (ONLINE)
Magdalena Musiał-Karg, Adam Mickiewicz University in Poznań
Izabela Kapsa, Kazimierz Wielki University in Bydgoszcz
2."A Beautiful Mind": Journalism's Reconfiguration in Relation to AI (ONLINE)
Nikola Mlađenović, University of Belgrade
3. When Fact-checking renews Information Technology and Journalism: an Epistemological Approach (LIVE)
Angelina Toursel, Polytechnic University of Hauts-de-France
Dr. Philippe Useille, Polytechnic University of Hauts-de-France
---
CONFERENCE
Tuesday, 29 September 2020
SESSION 3
9:15 – 10:30
1. One Man's Misinformation, Another Man's Treasure: What did Neoliberals do? (ONLINE)
Nikola Mlađenović, University of Belgrade
2. Mato Brautović, University of Dubrovnik
TBA (LIVE)
3. Nenad Prelog, University of Zagreb
TBA (LIVE)
SESSION 4
10:30 – 11:45
1. Inoslav Bešker, Split University
TBA (LIVE)
2. Lordan Prelog, University of Zagreb
TBA (LIVE)