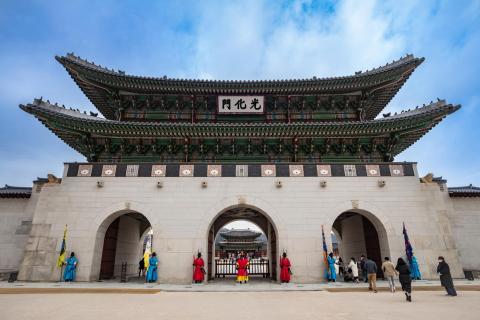 Seoul, South Korea, will host the 2025 IPSA World Congress of Political Science!

As a scientific association with over 4,000 members worldwide, we are pleased to organize the 28th IPSA World Congress in Seoul for the second time since 1997.  The vibrant city of Seoul, with a population of close to 10 million, is the economic, cultural, and political capital of South Korea.

The Congress will be organized in collaboration with the Korean Political Science Association (KPSA) and held at the Coex Convention & Exhibition Center, 12-16 July 2025. The KPSA has already secured full support from the government of South Korea, the city of Seoul, and universities and organizations within the South Korean political science community. We expect a strong turnout from the political science communities of Asia and Oceania.

The Congress program will be prepared by Program Co-Chairs Prof. Irasema Coronado and Prof. Azul A. Aguiar Aguilar under the theme Resisting Autocratization in Polarized Societies.

Stay tuned for more exciting news about the 2025 IPSA World Congress in Seoul!
---
Congress Theme: Resisting Autocratization in Polarized Societies
Autocratic governments are on the rise. Democracies have been eroding from the right and left, from above —leaders— and below —citizens—, but also from outside with the support and guidance of new regional orders. Countries where democracy is well-established or where it is functioning with its minimal foundations, such as elections, are witnessing the expansion of autocratizing politics. Additionally, there is a growing polarization in the understanding of future political, social, and national goals. Societies are becoming increasingly politically and ideologically divided, with each side viewing the other as a problem. Radical polarization among elites but also between society has emerged as a distinctive feature in both Global South and North countries, and it is impacting democracies and international orders.
Some elected leaders are challenging the established rules, undermining the rights of minorities, political and civil rights, and reshaping the political arena to implement their desired policies. At the same time, citizens' preferences and support for democracy indicate that this regime may no longer be the only game in town. Disenchanted citizens believe that democracy has failed to deliver on its promises or meet their economic, political or social expectations. Autocrats and their policies are becoming increasingly popular among voters, amidst claims of voter suppression and misinformation. Citizens are disaffected and, in some countries, living in perpetual fear. Fake news, post truth politics, and manipulation of events such as war, migration, climate change for political gain are increasingly common and bolstered by digitalization.
We have also verified how new regional orders help leaders with autocratic tendencies to capitalize on citizens' dissatisfaction with democracy, exploit polarized sentiments, and undermine democracy and rights through policies and legislation justified by national and public security, austerity measures, participatory mechanisms, secure migration, and flexible regulations for fuel and agro-industrial companies.
Despite these facts, some countries have resisted autocratization and implemented timely measures to halt the slow but steady dismantling of democracies. Responsible opposition political parties, independent courts, and active civil society have struggled to uphold democratic rules and values. Furthermore, as their authoritarian counterparts, certain democracies are in a position to support other democratic regimes in resisting autocratization and promoting and protecting democracy through collaboration in regional organizations. To effectively counter the emergence of autocratizing politics and regimes, countries require the support from domestic democrats but also democratic nations and global and regional organizations. These entities can foster cooperation, promote strategies to safeguard democratic values, and contribute to reversing the damage caused by autocratic governments while helping to rebuild democracies.
For the IPSA 2025 World Congress, we aim to draw the attention of the global political science community to issues related to the resistance against autocratizing politics in the context of polarized societies. We actively encourage engaging proposals and discussions on the intricate connections between these phenomena and critical issues such as human rights, civil liberties, inequality, political institutions, public policies, social actors, migrants, digitalization, climate politics, international agreements, and organizations.
---
Congress Important Dates
10 JUL 2024
Call for Proposals Opens
Call for open panels (10 July - 30 August)
Call for closed panels (10 July - 5 November)
Call for papers (10 September - 5 November)
5 NOV 2024
Proposal Submission Deadline
22 JAN 2025
Proposal Acceptance Notification
22 JAN 2025
Registration Opens
20 MAR 2025
Early Registration Deadline
8 MAY 2025
Final Registration Deadline
20 JUN 2025
Paper Upload Deadline
12-16 JUL 2025
WC2025 Seoul