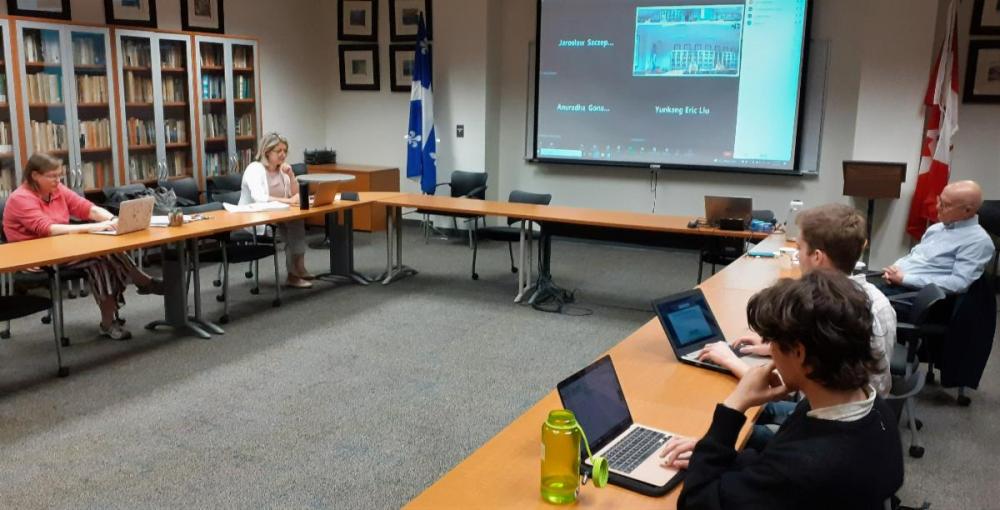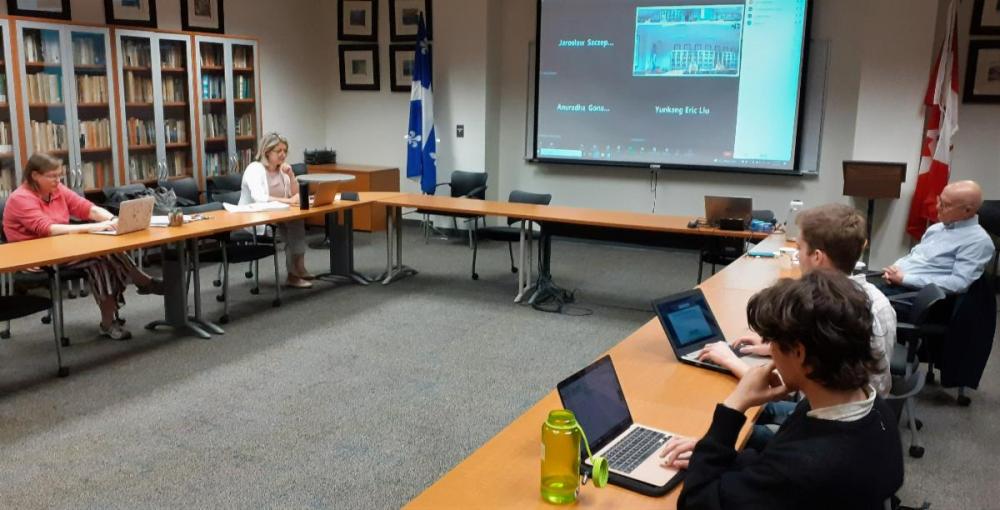 The Second IPSA-Concordia Summer School in Applied Diplomacy Successfully Completed
Publication date: Tue, 12 Jul 2022
The second edition of the IPSA-Concordia Summer School in Applied Diplomacy, held in hybrid format on 6-16 June 2022, proved to be a resounding success. The Summer School was offered in person, but international students who wished to take non-credit courses were given the option of attending virtually.
The 10-day intensive program included theoretical and policy-oriented seminars, together with a hands-on Diplomacy Lab that allowed participants to form teams to work on case studies. The academic program was prepared by Prof. Elizabeth Bloodgood (Concordia) and Dr. Kim Fontaine-Skronski (IPSA).
At the end of the Summer School, students were invited to choose among three real-time case studies and present policy recommendations on the following three topics:
Migrant Labor in a Covid19 North America 
The US, Canada and Mexico Free Trade Agreement (CUSMA): Automotive Industry and Government Procurement sectors
Arctic Futures when the Chair is at War
On 14 June, IPSA Executive Director, Kim Fontaine-Skronski, and former Canadian Ambassador to the World Trade Organization (WTO), Don Stephenson, presented a session on "Trade Negotiations, Past and Present." Dr. Fontaine-Skronski lectured on the WTO and its mandate from a historical perspective while Mr. Stephenson shared his valuable experience as a negotiator with the WTO and other organizations. 
Participants also heard from representatives from Global Affairs Canada, the Canadian Foreign Affairs Department, on Trade negotiations, Digital Foreign Policy and the Middle East. They also had the opportunity to visit the only UN Specialized Agency in Canada, the International Civil Aviation Organization (ICAO), based in Montreal.
In total, participants heard from 22 distinguished speakers. We look forward to holding the third edition of the IPSA-Concordia Summer School in Applied Diplomacy at Montreal's Concordia University in June 2023.
Guest Lecturers (*in order of appearance):
Dr. Elizabeth Bloodgood, Associate Professor and Chair, Department of Political Science, Concordia University
Dr. Bob Reinalda, Fellow and Senior Researcher at Radboud University, Nijmegen, NL
Mr. Jess Dutton, Director General, Middle East, Global Affairs Canada and Former Canadian Ambassador to Egypt 
Dr. Natalia Grincheva, Assistant Professor in the Department of Media at the National Research University Higher School of Economics in Moscow, Russia
H.E. Alejandro Estivill, Consul General in Montreal, Mexico
Mr. Henri-Paul Normandin, Former Director, International Relations Bureau, City of Montreal, and Fellow at the Institut d'études internationales de Montréal (IEIM)
Dr. Nicole de Silva, Assistant Professor, Political Science Academic Director, Political Science Co-op Program, Concordia University
Mr. Pierre Marier, Director, Tariffs and Goods Market Access, Global Affairs Canada 
Ms. Nadine Nickner, Director, Government Procurement, Trade and Environment Division, Global Affairs Canada
Dr. Corneliu Bjola, Associate Professor of Diplomatic Studies, University of Oxford
Mr. Kyle Matthews, Executive Director of the Montreal Institute for Genocide and Human Rights Studies (MIGS) at Concordia University
Ms. Sarah Cox, Director, Circumpolar Affairs & Head of Delegation, SDWG, Arctic Council, Crown-Indigenous Relations and Northern Affairs
Mr. Sean Clark, Director, Trade Agreements Secretariat, Global Affairs Canada
Dr. Philippe-André Rodriguez, Deputy Director, Centre for International Digital Policy, Global Affairs Canada
Dr. Jean-Christophe Mauduit, Lecturer in Science Diplomacy at University College London (UCL) in the Department of Science, Technology, Engineering and Public Policy (STEaPP)
Dr. Jean-Christian Lemay, Research and Innovation Attaché at the Québec Government Office in London
Admiral Lutz Feldt, Vice Admiral (ret) of the German Navy, German Maritime Institute
Dr. Mathieu Denis, Acting CEO and Science Director, International Science Council (ISC)
Dr. Kim Fontaine-Skronski, Affiliated Professor, Department of Political Science, Concordia University, and Executive Director, IPSA
Mr. Don Stephenson, Former Canadian Ambassador to the WTO
Mr. Nabil Naoumi, Former President Air Navigation Commission, ICAO