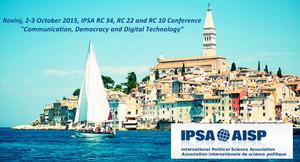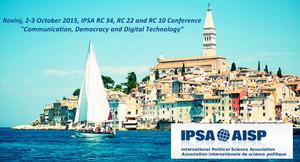 Communication, Democracy and Digital Technology - A Conference Organized by RC10, RC22 and RC34
Publication date: Thu, 08 Jan 2015
A committee made up of IPSA RC10 (Electronic Democracy), RC22 (Political Communications) and RC34 (Quality of Democracy) will stage a conference in Rovinj, Croatia, under the theme "Communication, Democracy and Digital Technology." The event will be held on October 2 and 3, 2015.
The conference theme will focus on the intersection between three strands of political science. Each asks questions of vital importance to the well-being of global democracy. The questions revolve around measures, standards and analyses of the quality of democracy, the role of political communications in promoting democracy, and the extent to which information and communications technologies can contribute to a richer, interactive and co-created politics. Without introducing normative ontologies into the discussion, we will look at how communicative acts, particularly (but not exclusively) those that use digital technologies, contribute positively or negatively to the quality of the democratic experience for citizens, and how they sustain active democracies.
Professor Guy Lachapelle, IPSA Secretary General, will deliver a keynote lecture at the conference.
Papers that contribute theoretically and empirically to this debate and to related debates are welcome. The concept of democracy (political participation, engagement and deliberation) should serve as the core focus, and explicit links must be made to the theory and practice of digital political communications, either by governments, political parties or candidates, media, citizens, NGOs or social movements. Papers with a focus on cross-national comparative analyses are particularly welcome.
The call for papers deadline is January 31, 2015.
More information on the conference