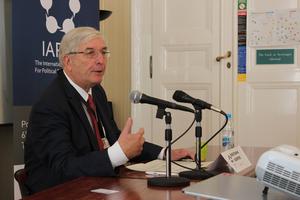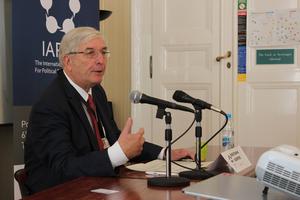 Christian W Haerpfer Delivers the IPSA Lecture at the IAPSS World Congress
Publication date: Wed, 12 Apr 2017
On April 5, 2017, Professor Christian W Haerpfer presented a lecture on "The Meaning of Political Participation: Methodology and Measurement" to a large crowd of students from 33 different countries. He discussed various topics, including the definition of the cycle of political participation and how to measure elections (quantitative and qualitative measurements).
With his agreement, IAPSS livestreamed the entire lecture, which was viewed by 5,382 people. Please see the following link: https://www.facebook.com/IAPSS/videos/10155142679846081/
Following his lecture, participants in the room and on the livestream platform were invited to ask questions.