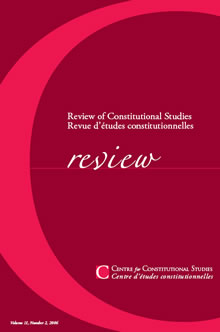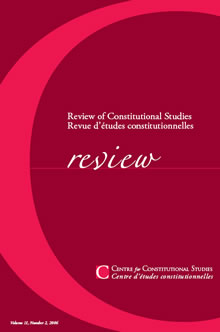 Journal/Call for Papers Description
In these unprecedented and unsettled times, deeply researched and carefully argued constitutional scholarship takes on heightened significance. The Review of Constitutional Studies is now accepting submissions of manuscripts in English or French for its next two issues.
Issue 25.1
This is an open call for general submissions on any topic related to constitutional law or constitutional studies.
The deadline for submitting a manuscript for Issue 25.1 is August 31, 2020.
Issue 25.2
In addition to general submissions, the Review also welcomes submissions that are specifically related to the constitutional implications of: i) emergency powers in response to health and environmental crises; and ii) current Indigenous mobilizations across Canada.
The deadline for submitting a manuscript for Issue 25.2 is September 30, 2020.
About the Review:
Published by the Centre for Constitutional Studies since 1993, the Review is Canada's only peer-reviewed, interdisciplinary academic journal dedicated to the exploration and analysis of constitutional law and theory. The Review publishes original scholarly work on the theoretical, functional and doctrinal aspects of constitutional law, and provides a forum for the analysis of constitutionalism in its various political, social, and historical contexts. The Review also welcomes articles focusing on comparative or global constitutionalism.
Manuscripts submitted for publication must be submitted for the exclusive consideration of the Review. They must not have been previously published, nor be under review elsewhere. Authors can expect the double-blind peer review process to take approximately eight weeks.
Articles should be submitted to Patricia Paradis, Managing Editor (pparadis@ualberta.ca).
Book reviews should be submitted to Professor Joshua Nichols (jnichols@ualberta.ca).
For more information, please refer to the Submission Guidelines.
The Review is indexed in the Index to Canadian Legal Periodical Literature, the Index to Canadian Legal Literature, Current Law Index, Academic Search Complete, CPI.Q, LegalTrac and HeinOnline.
Prof. Han-Ru Zhou
Prof. Noura Karazivan
Co-Editors-in-Chief