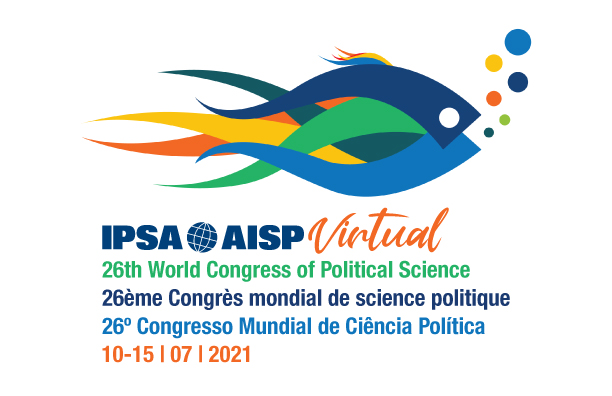 The 2021 IPSA World Congress of Political Science was presented virtually for the first time in IPSA's 72 years history, from 10 to 15 July 2021. Originally set to take place in 2020 in Lisbon, Portugal, the COVID-19 pandemic led to the postponement of the event to 2021 and to the transition to a fully virtual format.
In spite of these obstacles, the Congress became the second most attended event in the history of the Association, after the 2012 World Congress in Madrid. The Virtual Congress was attended by 2,760 participants and saw 2,363 papers presented as part of 602 panels. The program was topped by three well attended Plenary Sessions and 14 Special Sessions. Research Committees (RCs) once again played an active role, organizing 449 (75%) of all panels. The Portuguese Political Science Association conjointly held its annual conference, staging 52 panels in total.
A word of thanks goes to all World Congress participants and session chairs, as well as the Local Organizing Committee in Lisbon and the tireless volunteers from 28 countries worldwide who helped make the 2021 IPSA Virtual World Congress a great success. We also extend our heartfelt gratitude to the sponsors, partners, and exhibitors who made this year's event possible.
---
---
Congress Theme
New Nationalisms in an Open World
With the beginning of the present millennium, varieties of a new type of nationalism spread through the world and this propagation engenders a paradox as its spectacular rising occurs in a period which is characterized by openness, globalization and interdependence. Historically, nationalism as an ideology has risen as a response to rapid change; the contemporary context of openness, globalization and interdependence therefore shapes the type of nationalisms in the present millennium. Besides, new nationalism rises in both the affluent and destitute societies which in turn shapes the way the new nationalism manifests itself. Hence, what we observe today can be rather referred to as new nationalisms. The rise of the varieties of new nationalism and its implications on international politics requires posing some key questions in order to attain a more sophisticated level of understanding. What is new nationalism, who are the new nationalist leaders and what are the similarities and differences between the new nationalisms and its predecessors? How can we interpret and classify new nationalisms taking populism, authoritarianism and ethnicism into consideration together with new nationalism? Finally, what are the potential ramifications of new nationalism on political mobilization, electoral behavior, political systems as well as on global governance and international relations?
The new nationalism has become a highly controversial issue by the consecutive electoral successes of new types of nationalist parties in various parts of the world. It should be acknowledged that the profile and discourse of the leaders of these parties played an important role in this increased interest. Politicians such as Vladimir Putin, Donald Trump, Viktor Orban, Recep Tayyip Erdogan, Rodrigo Duterte, and most recently Jair Bolsonaro display only partly similar profiles; however, develop an almost similar discourse, pointing to the rise of a complex and diversified phenomenon. They increasingly resort to national references in political rhetoric in an intensifying fashion over time, express distrust in globalization and regional integration with a renewed interest in sovereignty, distance their parties from the classic political ideologies, mobilize their supports on the basis of cultural specificities and ethnicity, display hostility against migration combined with a new commitment to borders or even walls, and magnify the already existing fear induced by rapid economic change and aggressive technological advances.
This new nationalism and its cluster of leaders diverge from the past forms of nationalisms despite some shared characteristics. The early form of nationalism in the modern period which emerged in Europe in the 19th century and spread towards the global South in the 20th century was dominated by a search for the acquisition of rights and a rejection of absolutist regimes. It took its momentum from the struggle against first the imperial and then the colonial rules. It aimed to redefine popular sovereignty while aspiring to construct a new political community. The new nationalism, on the contrary, aims for withdrawal, confinement, and even isolation. It does not target acquisition of new rights but rather calls for their being limited, their exclusiveness and their appropriation only by the original community of native-born people. For this reason, the new nationalist rhetoric is less political and more ethnicist, mobilizing culture, identity and religious references. In this sense, new nationalism is almost the opposite of the original forms of nationalism of the decolonized countries, conservative nationalism and leftist nationalism. The sources of frustration and fear shaped the aforementioned forms of nationalism; and hence, we should focus on the new dynamics that lead to new nationalisms.  
At the domestic sphere, as new nationalism promotes nativism, ethnicism and communitarianism along with dramatizing the increasing pressure of international migration, it poses challenges to nation-building processes and functions as a major instrument of electoral marketing. The new nationalism also endangers the democratic consensus which has been assumed to have consolidated in the last decades of the previous century by cultivating a reorientation towards authoritarianism and personalization of power. More broadly, it promotes the majoritarian aspect of populism that undermines representative government and its political institutions, weakening the role of intermediary actors and sometimes even excluding some social groups.
How different kinds of fear, humiliation and frustration can generate a new typology of nationalism is an exciting challenge which would enrich not only political theory but also comparative politics and international relations. Globalization with its connotations of openness and interdependence hence should be paid special attention to understand new nationalisms. We should then consider the multivarious impacts globalization has on various societies and their social strata. We must also compare how political culture, religion, ethnicity and levels of social integration shape social outcomes. Though they may not have the same meaning in every society; perceptions of fear, humiliation, decline and frustration seem to be the major factors for explaining this process. In this perspective, Durkheim's vision of anomie within industrializing societies can be applied to the new globalized international arena. Globalization leads to a more sociological vision of IR that includes social behavior, political thought and studies of domestic conflicts, requiring a deeper analysis of the relations between its domestic and international dimensions. Contributing to the further development of this approach converges with the direction toward which the new international political theory is already advancing.
Two questions tend then to prevail at the IR level. First: is new nationalism a new (even simply renewed) diplomatic rhetoric or is it the starting step of a real new sovereigntism that will prevail in the new international order? If we stick to the first hypothesis, we move to a world in which international relations will give more and more space to protest, deviance and symbolic mobilizations. If we opt for the second, we will have to cautiously conceive this new sovereigntism which appears nowadays as a confusing blending of "conservative sovereigntism" grounded in international law and promoted by the old powers, a "neo-sovereigntism" defended by rising powers and combining territorial integrity, non-intervention and openness to globalization, and an "archeo-sovereigntism" comprising ethno-nationalism and rejection of any kind of globalization. How can we make these contradictory trends compatible or at least coexist in the international arena? What would the codes of this new anarchical and "apolar" system be?
The second question relates to the conflicts themselves. On the one hand, the new nationalism restores the classic conception of war as inter-state conflict and a confrontation of intensified nationalisms. On the other hand, it extols identity, religious and ethnic references and veers toward the recent conceptions of new wars the implications of which we were able to witness in the Yugoslavian experience. If NN gives a renewed importance to the traditional issues of territoriality, inter-state competition or assertive sovereigntism, it also bestows new attractiveness to culture and ethnic references and identity entrepreneurs. Is the new nationalism then a contemporary crisis of the new global world or a deep transformation toward a lasting new domestic and international order? The uncertain compatibility of this new nationalism with the international system and the global economy is probably one of the major challenges the present world is facing. The recent research on "competition states" or "market states" considers the new public policies as being embedded in a global market that is no longer compatible with protectionism. Are we now moving toward a new international political economy that would reinstate protectionism or even "Colbertism" and mercantilism? Equally of importance, how are we to reconcile this new nationalism with regional integrations already undergoing a deep crisis?  
Daily Highlights
Videos
Ceremonies
Plenary Sessions
Special Sessions
Award Sessions
Global South Solidarity Fund
IPSA would like to thank the 800 WC2021 participants who contributed to the Global South Solidarity Fund! After the transition to a Virtual Congress announced on 1 February 2021, the Global South Solidarity Fund received a total amount of US$36,640 in donations from the WC2021 solidarity registrations, which will be used to assist colleagues in financial need to attend future IPSA World Congresses.
The following 247 individuals contributed to the Global South Solidarity Fund by choosing to maintain the full (solidarity) registration fee. The remaining 553 donations were made anonymously. IPSA thanks everyone for their incredible generosity in these challenging times.
Mr. Syed Bahadur Abbas, China
Dr. Fernando Abrucio, Brazil
Prof. Katharine Adeney, United Kingdom
Dr. Adebajo Adeola Aderayo, Nigeria
Dr. Timofey Agarin, United Kingdom
Mr. Arjan Aguirre, Philippines
Ms. Megan Aiken, Canada
Mr. Haydar Eren Akın, France
Prof. Raluca Alexandrescu, Romania
Mr. Chapelan Alexis, Romania
Dr. Thomas Ameyaw-Brobbey, China
Dr. Suely Araújo, Brazil
Prof. Leslie Elliott Armijo, Canada
Dr. Ann Armstrong, Canada
Dr. Luiz Carlos Avila Junior, Brazil
Dr. David Baldwin, United States
Dr. Josep Baqués, Spain
Dr. Philip Barker, United States
Prof. Martonio Mont'Alverne Barreto Lima, Brazil
Dr. Sherrie Baver, United States
Prof. Jane Bayes, United States
Dr. Domagoj Bebić, Croatia
Prof. Rubens Becak, Brazil
Prof. Dirk Berg-Schlosser, Germany
Ms. Miriam Bohn, Germany
Dr. Justyna Bokajło, Poland
Dr. Antoine Bondaz, France
Mr. Emanuel Bourges, United Kingdom
Prof. Rui Branco, Portugal
Prof. Kathleen Bruhn, United States
Dr. Daniel Buquet, Uruguay
Dr. Thawilwadee Bureekul, Thailand
Prof. Cristiano Cabrita, Portugal
Prof. Mauro Calise, Italy
Dr. Ines Calzada, Spain
Dr. Marco Antonio Catussi Paschoalotto, Portugal
Ms. Mairead Cavanagh, Canada
Dr. James Chamberlain, United States
Ms. Khushboo Chawla, India
Dr. Ching-Chang Chen, Japan
Prof. John Ciorciari, United States
Mr. Valentin Clavé-Mercier, United Kingdom
Prof. Francisco Collado Campaña, Spain
Prof. Bruno Comparato, Brazil
Prof. Radomir Compel, Japan
Dr. Laurence Cooley, United Kingdom
Ms. Maria Júlia Cruz da Fonseca, Brazil
Dr. Gibran Cruz-Martinez, Spain
Prof. Maria Paula Dallari Bucci, Brazil
Mr. Mario Datts, Germany
Prof. Alberto de la Peña, Spain
Dr. Marino De Luca, United Kingdom
Mr. François Debras, Belgium
Ms. Nataliya Demyanenko, Germany
Mr. Patrick Desjardins, Canada
Prof. Klaus Detterbeck, Germany
Dr. Betty Dobratz, United States
Dr. Erick Duchesne, Canada
Mrs. Pascale Dufour, Canada
Prof. Sandra Eckert, Denmark
Prof. Dan Edelstein, United States
Dr. Wayne Edge, United States
Dr. Michael Edinger, Germany
Mr. Felipe Estefan, United States
Mr. João Estevens, Portugal
Dr. Gerald Ezirim, Nigeria
Dr. John Feng, China
Prof. Alan Fenna, Australia
Miss Gabriela Luisa Fernández Herrera, Argentina
Mr. Kristian Foldes, Czech Republic
Dr. Kim Fontaine-Skronski, Canada
Prof. Giulio Gallarotti, United States
Dr. Adolfo Garcé, Uruguay
Dr. Michele Gazzola, United Kingdom
Mr. Richard Georgi, Sweden
Dr. Nefise Ela Gokalp Aras, Turkey
Miss Nathália Gonçalves Zaparolli, Brazil
Prof. Wyn P. Grant, United Kingdom
Prof. Florian Grotz, Germany
Prof. Adrian Guelke, United Kingdom
Prof. Dingping Guo, China
Mr. Yohan Ha, South Korea
Ms. Jenny Hahs, Germany
Ms. Aino Hakovirta, Finland
Dr. Rosalie Hall, Philippines
Dr. Jonathan Harrington, United States
Ms. Johanna Hase, Germany
Prof. Mark Haugaard, Ireland
Prof. Jorge Heine, United States
Dr. Thorsten Heitkamp, Germany
Prof. Ludger Helms, Austria
Prof. Alan K Henrikson, United States
Prof. Charles Henry, United States
Prof. Heike Hermanns, Germany
Prof. Hans-Kristian Hernes, Norway
Mr. Maurits Heumann, Switzerland
Dr. Ronald Hikel, Canada
Dr. Stephen Hobden, United Kingdom
Prof. Ursula Hoffmann-Lange, Germany
Dr. Takashi Hosoda, Czech Republic
Dr. Atsuko Ichijo, United Kingdom
Miss Bianca-Anastasia Ionel, Romania
Dr. Hirotake Ishiguro, Japan
Prof. Christopher Isike, South Africa
Prof. Yoko Iwama, Japan
Dr. Masahiro Iwasaki, Japan
Ms. Sharmi Jaggi, Canada
Prof. Richard Johnston, Canada
Prof. Jim Jose, Australia
Prof. Dr. Ingo Juchler, Germany
Prof. Hiromi Kabashima, Japan
Dr. Thomas Kalinowski, South Korea
Dr. Binoy Kampmark, Australia
Dr. Toshihiro Katagiri, Japan
Mr. Michiya Kawamura, Japan
Mrs. Thaise Kemer, Brazil
Ms. Verena Kettner, Austria
Dr. Michael Kilburn, United States
Prof. Wawrzyniec Konarski, Poland
Dr. Agnes Koos, United States
Dr. Alexander Korolev, Australia
Dr. Jan Kovář, Czech Republic
Dr. Mary Rose Kubal, United States
Dr. Keiichi Kubo, Japan
Prof. Stein Kuhnle, Norway
Dr. Reena Kukreja, Canada
Prof. Nonna Kushnirovich, Israel
Dr. Megumi Kuwana, Japan
Dr. Tijs Laenen, Belgium
Ms. Karolína Lahučká, Czech Republic
Dr. Goranka Lalic Novak, Croatia
Mr. Junhyoung Lee, Ireland
Dr. Eyal Lewin, Israel
Prof. Darren Lilleker, United Kingdom
Prof. Renato Lima de Oliveira, Malaysia
Dr. Emanuela Lombardo, Spain
Dr. Antón Losada Trabada, Spain
Mr. Keith Lund, France
Dr. Pascal Lupien, Canada
Dr. Muiris MacCarthaigh, United Kingdom
Mr. Bruno Magalhaes, Brazil
Dr. Irmina Matonyte, Lithuania
Dr. Masaki Matsuo, Japan
Prof. Margitta Mätzke, Austria
Dr. Dennis Louis McNamara, United States
Prof. John Medearis, United States
Mr. Gordon Kojo Nyame Mensah-Yawson, China
Dr. Natalija Micunovic, Serbia
Ms. Maria Milanova, Canada
Mr. Mario Mirabile, Italy
Prof. Matthew Manuelito Miranda, Philippines
Dr. Charles Mitchell, United States
Dr. Jaione Mondragón, Spain
Dr. Christopher Mooney, United States
Dr. Minion K. C. Morrison, United States
Prof. Sean Mueller, Switzerland
Prof. Fortunato Musella, Italy
Dr. Ryo Nakai, Japan
Dr. Ayano Nakamura, Japan
Dr. Masataka Nakauchi, Japan
Prof. Shintaro Namioka, Japan
Ms. Nguyen Quynh Nga, Vietnam
Dr. Ngozi Nwogwugwu, Nigeria
Prof. Ariyoshi Ogawa, Japan
Dr. Krzysztof Ostrowski, Poland
Dr. Christophe Pajon, France
Mr. Justin Charles Michael Patrick, Canada
Prof. Ito Peng, Canada
Prof. Ursula Dias Peres, Brazil
Prof. Zdravko Petak, Croatia
Dr. Steven Peterson, United States
Dr. Torunn Pettersen, Norway
Prof. Marek Pietras, Poland
Prof. Laurence Piper, South Africa
Dr. Cristian Pirvulescu, Romania
Mr. Gilles Pittoors, Belgium
Prof. Hans-Jürgen Puhle, Germany
Dr. Mary Ann Quirapas-Franco, Singapore
Dr. Eija Maria Ranta, Finland
Dr. Arpit Raswant, Australia
Prof. Steve Ratuva, New Zealand
Dr. Theresa Reidy, Ireland
Dr. Julia Renner, Germany
Mr. Guillermo Reyes Pascual, United Kingdom
Prof. Benoît Rihoux, Belgium
Prof. Alfredo Rizzo, Italy
Mr. Xavier Romero-Vidal, United Kingdom
Dr. Hilmar Rommetvedt, Norway
Dr. Francesca Rosignoli, Sweden
Prof. Agnieszka Rothert, Poland
Miss Silvia Carolina Ruiz Rodríguez, Austria
Dr. Anne Runyan, United States
Prof. Mark Rush, United States
Mrs. Marie-Hélène Sa Vilas Boas, France
Mr. Valerii Saenko, Italy
Mr. Juan Sanchez, United States
Dr. Rubén Sánchez Medero, Spain
Mrs. Iris Santos, Finland
Dr. Luís Eduardo Saraiva, Portugal
Dr. Maurice Satineau, Switzerland
Mr. Richard Schenk, Germany
Mr. Christian Schmidt, Germany
Prof. Madhushree Sekher, India
Prof. Helen Shestopal, Russia
Prof. Kosuke Shimizu, Japan
Dr. Sojin Shin, Japan
Ms. Kirti Singh, India
Prof. Abdulkader Sinno, United States
Prof. Leonid Smorgunov, Russia
Dr. Todd Sorensen, United States
Prof. Michele Sorice, Italy
Miss Federica Stagni, Italy
Dr. Lorna Stefanick, Canada
Prof. Janice Stein, Canada
Prof. Masako Suginohara, Japan
Mr. Zilvinas Svedkauskas, Germany
Dr. Yu Tachibana, Japan
Prof. Gökbörü Sarp Tanyildiz, Canada
Dr. Michele Testoni, Spain
Prof. Pham Quoc Thanh, Vietnam
Ms. Anya Thomas, Australia
Dr. Christian Thuselt, Germany
Dr. Cordula Tibi Weber, Germany
Mrs. Tihomira Trifonova, Bulgaria
Dr. Rostislav Turovsky, Russia
Dr. Jose Manuel Ugarte, Argentina
Dr. Marybeth Ulrich, United States
Miss Diana Teresa Vasquez Merchán, Colombia
Dr. Michelangelo Vercesi, Germany
Dr. Davide Vittori, Belgium
Dr. Oleksandr Vodiannikov, Ukraine
Mr. Erik Vollmann, Germany
Dr. F. Peter Wagner, United States
Dr. Sanne Weber, United Kingdom
Prof. Till Weber, United States
Mr. Peter Wedekind, Czech Republic
Dr. Ryan Weichelt, United States
Dr. Ben Wellings, Australia
Mr. Laurence Whitehead, United Kingdom
Dr. Richard Witmer, United States
Dr. Norma Wong, Norway
Ms. Zeying Wu, United States
Prof. Jan Wynen, Belgium
Prof. Ryusaku Yamada, Japan
Prof. Hidehiro Yamamoto, Japan
Mr. Galip Emre Yıldırım, France
Mr. Josue Andres Zuñiga Aparicio, Mexico