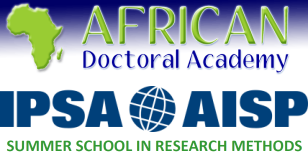 1st Summer School in Research Methods
Presented by the African Doctoral Academy in partnership with the International Political Science Association
January 17-28, 2011
Stellenbosch University
Stellenbosch, South Africa


The aim of this partnership, headed up by Johann Mouton (African Doctoral Academy, Stellenbosch University) and Dirk Berg-Schlosser (IPSA), will offer one- and two-week* courses of the highest international standard on research methods for prospective and currently enrolled doctoral students, academics and scholars. (It may be of particular interest to current and prospective postgraduate supervisors.)

Institutional Partners:

The African Doctoral Academy is a capacity-building centre of the Faculty of Arts and Social Sciences at Stellenbosch University. Its mission is to support and advance doctoral training and scholarship on the African continent. The African Doctoral Academy will exercise this mission through offering training courses for prospective and current doctoral students in theory, methodology and scholarship. It will also offer certificated courses to academic staff on supervision, the management of post-graduate studies and research management. To inform its own work, the Academy has also initiated a research programme on "The African PhD".

Participation in the work and activities of the Academy is inclusive. Academics and students at any university in South Africa or elsewhere on the African continent are welcome to apply for attendance of any of our advertises courses, schools, workshops or seminars.