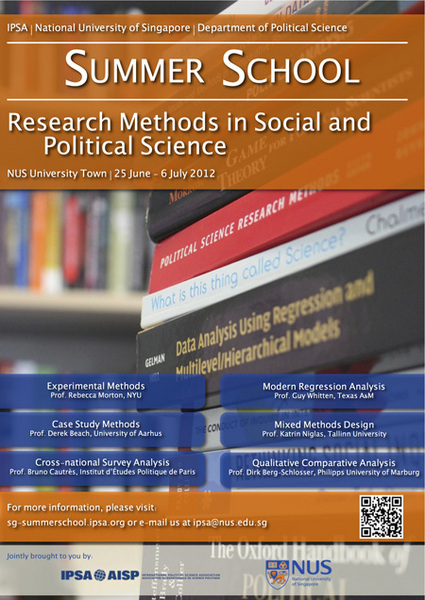 IPSA-NUS Summer School for Social Science Research Methods 2012
June 25, 2012 - July 6, 2012
National University of Singapore University Town
Singapore
The 1st Annual IPSA-NUS Summer School for Social Science Research Methods took place in Singapore in June and July 2012. It was hosted by the National University of Singapore's Department of Political Science.
The first program of its kind in Asia, the IPSA-NUS Methods Summer School offered rigorous training in social science research methods by outstanding and highly experienced international faculty. The participants – students, post-doctoral fellows, and junior faculty – from all over the Asia-Pacific region, Europe, and the U.S. were able to choose between four courses:
·         Modern Regression Analysis (Prof. Guy D. Whitten, Texas A&M University)
·         Experimental Methods (Prof. Rebecca B. Morton, New York University)
·         Case Study Methods (Prof. Derek Beach, University of Aarhus)
·         Mixed Method Designs (Prof. Katrin Niglas, Tallinn University)
The participants and instructors met each morning in the seminar room, and the afternoons were reserved for lab sessions and hands-on exercises. In addition to the regular class meetings, the Summer School organized evening talks and info sessions on topics like The Politics of Singapore, Global Repercussions of the Euro Crisis, and Publishing Academic Books and Journal Articles as well as a number of social activities and events.
The Summer School was a huge success. Not only did it provide participants with an excellent learning experience, but participants and instructors were unanimous in their praise for the organization of the Summer School and the opportunities it provided for building a wider and stronger network of scholars with an interest in advances research methods in Asia and beyond.
For more information about the Summer School in 2012 or to learn about future opportunities for methods training in Singapore, please contact the IPSA-NUS Summer School for Social Science Research Methods coordinators at:
IPSA-NUS Methods Summer School
National University of Singapore
AS1, #04-10, 11 Arts Link
Singapore 117573
ipsa@nus.edu.sg
http://methods-school.nus.edu.sg/