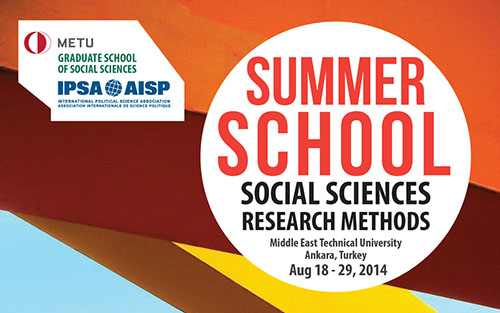 2nd IPSA-METU Summer School for Social Science Research Methods
August 18-29, 2014
Ankara, Turkey
 
The 2nd IPSA-METU Summer School for Social Science Research Methods was held at the Middle East Technical University in Ankara, Turkey, from August 18 to 29, 2014. The school is the only one of its kind to be offered in Turkey, the Middle East and North Africa, and Eurasia.
The Summer School is jointly organized by IPSA and the METU Graduate School of Social Sciences. A total of 34 students chose between six courses on a wide variety of social science research methods:
• Case Study Research Methods (Prof. Dr. Markus Haverland, Erasmus University Rotterdam and Prof. Dr.  Joachim Blatter, University of Luzern)
• Comparative Research Designs and Comparative Methods (Prof. Dr. Dirk Berg-Schlosser, Philipps University Marburg, Germany)
• Introduction to Text and Content Analysis Techniques (Prof. Dr. Matthias R. Hastall, TU Dortmund University, Germany)
• Multiple Regression and Generalized Linear Modelling (GLM) (Dr. Federico Vegetti, Central European University Budapest)
• Quantitative Methods for Public Policy Analysis (Prof. Dr. Bruno Cautrès, Sciences Po, Paris)
• Interviews and Focus Groups (Assoc. Prof. Dr. Ayça Ergun, Middle East Technical University, Ankara, Turkey)
In addition to attending regular class meetings in the morning and lab sessions or practice hours in the afternoon, participants were invited to attend lunch-hour sessions and afternoon talks on preparing research proposals and publishing as well as special topics prepared by the instructors.
The IPSA-METU Summer School gave students a unique opportunity to expand their knowledge of social science research methods under leading experts in the field as well as build academic networks across the region. The school attracted a mixed crowd from different regions, a testament to the need for training in research methodologies across the globe. The school has pioneered this vision in the region, and the hope is that this approach will continue to bear fruit for years to come.