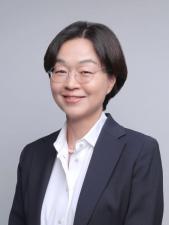 Ajin Choi is a professor in the Graduate School of International Studies at Yonsei University. She received her Ph. D in the Department of Political Science at Duke University. She was a national security fellow at the John M. Olin Institute for Strategic Studies and an international security fellow at the Belfer Center for Science and International Affairs, Harvard University.
She is the 2023 president of the Korean Political Science Association and served as the vice-president of the Korean Association of International Studies and the editor-in-chief of the Korean Journal of International Studies. Internationally, she currently works as an associate editor of International Studies Quarterly and serves as an editorial board member of International Studies Quarterly and International Studies Review. She also worked as a member of the Workshop and Research Grants Committee of the International Studies Association. Beyond the academic community she has served as a member of diverse advisory and policy evaluation committees of the Korean government.
Her research focuses on international conflict resolution, democratic cooperation, and alliance behavior and her major work appears in International Security, International Studies Quarterly, Journal of Conflict Resolution, Security Studies and so on.