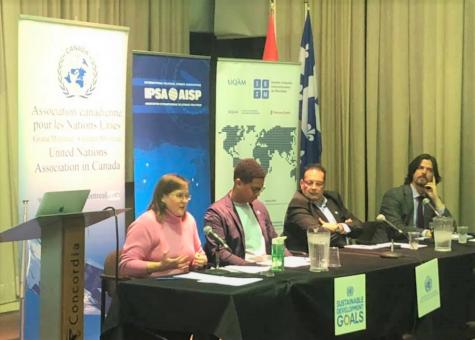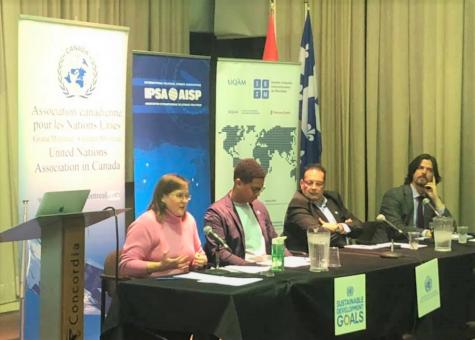 United Nations Day Celebrated at Concordia University
Publication date: Mon, 28 Oct 2019
In commemoration of United Nations Day on October 24th, the United Nations Association of Canada (UNAC) of Greater Montreal - in partnership with the City of Montreal, the Montreal Institute of International Studies (IEIM-University of Quebec in Montreal), the International Political Science Association (IPSA) and Concordia University - has organized an event on the United Nations Sustainable Development Goals (SGDs).
The panel, titled How INGOs and NGOs Contribute to the Reinforcement of Democratic Governance, opened by welcome remarks from Dr. Kim Kim Fontaine-Skronski, Executive Director of IPSA and led by Christopher Bourne, Professor of Political Science at Dawson College and a member of the United Nations Association in Canada's Board of Directors. Prof. Bourne focused on SDG #16 Peace, Justice and Strong Institutions.
Prof. Elizabeth Bloodgood, Chair of the Political Science Department at Concordia University; Marcello Scarone, President of the UNAC-Greater Montreal and Benjamin Etienne, IPSA World Congress and Events Assistant and former Active Citizen Participant have also talked about the Sustainable Development Goals.
The event was followed by a networking cocktail party.