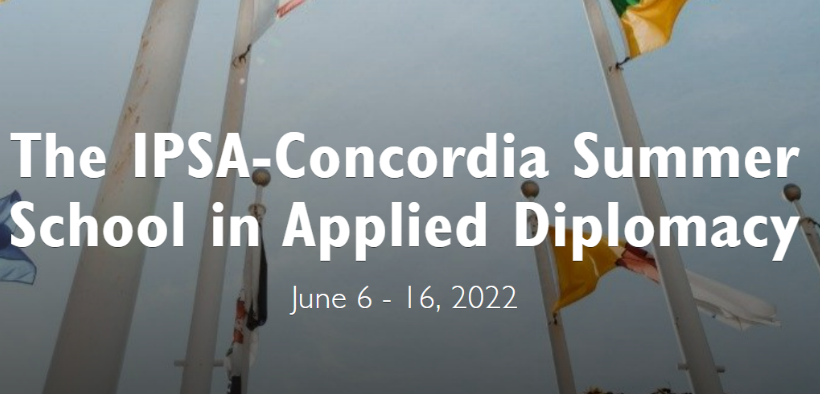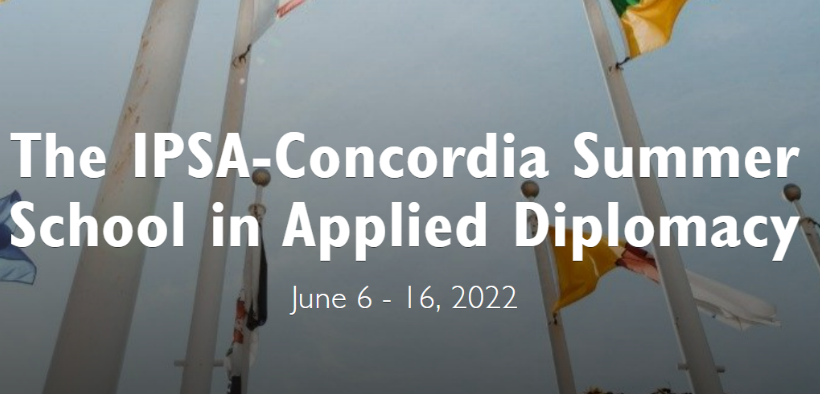 New Fee and Grant Opportunities Available for Non-credit Participants
Publication date: Tue, 10 May 2022
We are pleased to announce a new special rate and several grant opportunities for non-credit participants planning to attend the IPSA-Concordia Summer School in Applied Diplomacy on 6-16 June 2022 in Montreal, Canada.
If you are an international student and planning to participate virtually for academic enrichment purposes, tuition is now US $335 instead of CAN $1,900. If you wish to participate in person in the non-credit option, the fee remains at US $335 but we do not cover travel or accommodation. 
Additionally, you can now apply for a US $335 scholarship to cover your full tuition fee. Three IPSA scholarship opportunities are available. 
After a very successful inaugural run last year, this exciting program offers a mixture of theoretical and applied sessions on all aspects of diplomacy as well as a hands-on applied Diplomacy Lab and the opportunity to interact with some of the world's leading experts on diplomacy from academic and policy backgrounds. A Diplomacy Lab will allow participants to explore how diplomacy occurs in the real-world context and provide opportunities to network.
We invite all graduate students, young researchers and professionals to participate in the upcoming IPSA-Concordia Summer School in Applied Diplomacy.
Non-credit participants will receive a completion certificate from IPSA. 
New Application Deadlines
Deadline for Academic Credit Option: 20 May 2022
Deadline for Non-Credit Option: 27 May 2022
Academic Leaders
Elizabeth Bloodgood (Concordia), Kim Fontaine-Skronski (IPSA)
Course Outline
Introduction: The Evolution of Diplomacy
Diplomacy in International Relations Theory
Traditional Diplomacy - States, International Organizations
Changing Diplomacy - Agencies, Non-State Actors
International Negotiations, Past and Present
Digital Diplomacy
International Law and Norms of Diplomacy
Scientific Diplomacy
Questions about the IPSA-Concordia Summer School, and application processes, can be sent to ipsasummerschool@concordia.ca.
For more information, please visit our website.