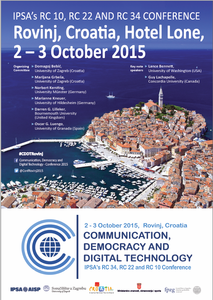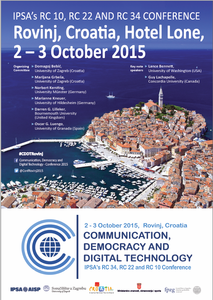 IPSA at the "Communication, Democracy and Digital Technology" Conference
Publication date: Tue, 06 Oct 2015
On October 2 and 3, 2015, IPSA RC 10 (Electronic Democracy), RC 22 (Political Communications) and RC 34 (Quality of Democracy) staged a conference in Rovinj, Croatia, under the theme of "Communication, Democracy and Digital Technology."
The conference theme focused on the intersection between three strands of political science. Each asks questions of vital importance to the well-being of global democracy. These questions revolve around measures, standards and analyses of the quality of democracy, the role of political communications in promoting democracy, and the extent to which ICTs can contribute to a richer, interactive and co-created politics. Without introducing normative ontologies into the discussion, the conference looked at how communicative acts, particularly those that use digital technologies, contribute positively or negatively to the quality of the democratic experience for citizens, and how they sustain active democracies.
To mark the occasion, IPSA Secretary General Guy Lachapelle presented a keynote lecture on October 2 titled "Do the Media Serve Democracy? The Changing Role of Journalists."  
Marianne Kneuer, IPSA Executive Committee Chair of the Committee on Research and Training and Vice-Chair of RC 34, also played a part in the conference by serving as a discussant on the panel titled "Cyber-Populism and Digital Direct Democracy: The Case of Podemos."
IPSA congratulates RC 10 and RC 22 on the success of the conference and wishes them the best of luck at next year's edition.