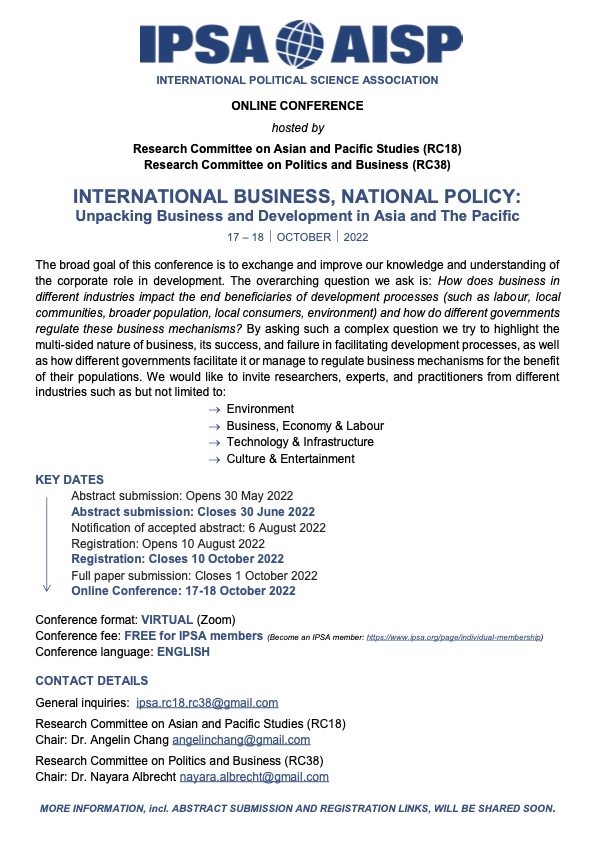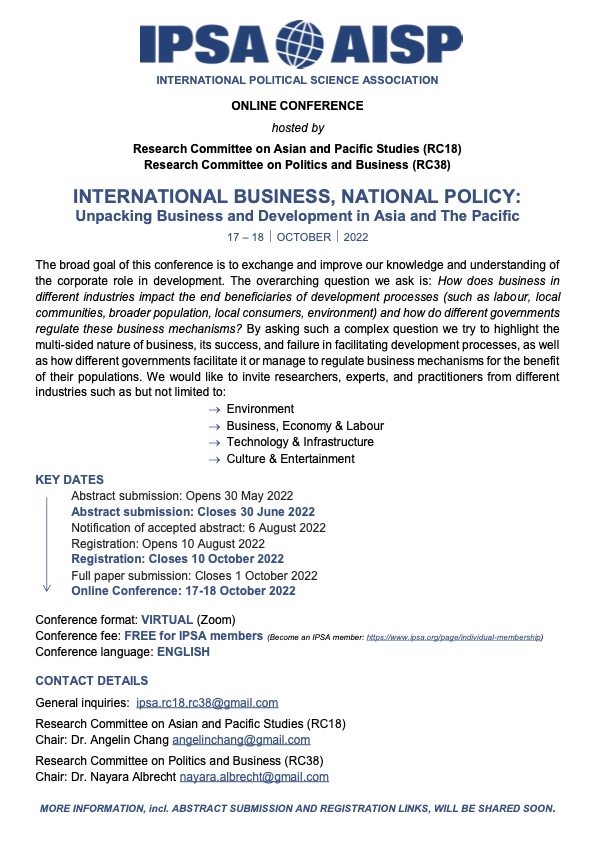 INTERNATIONAL BUSINESS, NATIONAL POLICY: Unpacking Business and Development in Asia and The Pacific
Mon, 17 Oct 2022 - Tue, 18 Oct 2022

Organized by: IPSA Research Committee on Asian and Pacific Studies (RC18) & Research Committee on Politics and Business (RC38)

Contact: ipsa.rc18.rc38@gmail.com
INTERNATIONAL BUSINESS, NATIONAL POLICY:
Unpacking Business and Development in Asia and The Pacific
17 – 18 ⏐ OCTOBER ⏐ 2022
ONLINE CONFERENCE
hosted by
INTERNATIONAL POLITICAL SCIENCE ASSOCIATION
Research Committee on Asian and Pacific Studies (RC18) 
Research Committee on Politics and Business (RC38) 

The broad goal of this conference is to exchange and improve our knowledge and understanding of the corporate role in development. The overarching question we ask is: How does business in different industries impact the end beneficiaries of development processes (such as labour, local communities, broader population, local consumers, environment) and how do different governments regulate these business mechanisms? By asking such a complex question we try to highlight the multi-sided nature of business, its success, and failure in facilitating development processes, as well as how different governments facilitate it or manage to regulate business mechanisms for the benefit of their populations. We would like to invite researchers, experts, and practitioners from different industries such as but not limited to:
Environment
Business, Economy & Labour
Technology & Infrastructure
Culture & Entertainment
KEY DATES
Abstract submission: Opens 30 May 2022
Abstract submission: Closes 30 June 2022
Notification of accepted abstract: 6 August 2022
Registration: Opens 10 August 2022
Registration: Closes 10 October 2022
Full paper submission: Closes 1 October 2022
Online Conference: 17-18 October 2022
Conference format: VIRTUAL (Zoom)
Conference fee: FREE for IPSA members (Become an IPSA member: https://www.ipsa.org/page/individual-membership)
Conference language: ENGLISH
CONTACT DETAILS
General inquiries:  ipsa.rc18.rc38@gmail.com
Research Committee on Asian and Pacific Studies (RC18) 
Chair: Dr. Angelin Chang angelin.chang@gmail.com
Research Committee on Politics and Business (RC38) 
Chair: Dr. Nayara Albrecht nayara.albrecht@gmail.com
MORE INFORMATION, incl. ABSTRACT SUBMISSION AND REGISTRATION LINKS, WILL BE SHARED SOON.