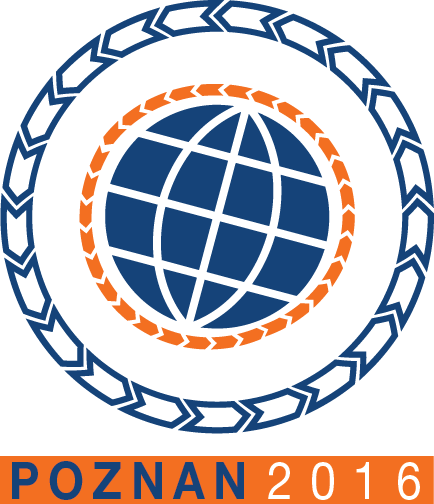 The 24th IPSA World Congress of Political Science drew 2,587 participants, the second highest turnout in the history of this event.
From July 23 to 28, 2016, participants from 92 countries gathered in Poznań, Poland, to share their research and discuss the main theme of the Congress, "Politics in a World of Inequality." In spite of its relocation from Istanbul to Poznań in March 2016, the event was a great success, with some 633 panels and 2,271 papers presented, along with a full slate of plenary and award sessions. Research committees (RC) played an active role, staging 393 panels and thus accounting for 62% of the panels presented.
A word of thanks goes out to all the participants, the session chairs, the Local Organizing Committee (LOC) in Poland, and the fantastic volunteers who helped make the 2016 IPSA World Congress a resouding success.
IPSA also extends its heartfelt thanks to the partners and sponsors (Poznan Convention Bureau, Adam Mickiewicz University in Poznań and the Ministry of Science and Higher Education - Republic of Poland) for their role in making this year's event a success.
Schedule Overview: view PDF
---
---
Congress Theme
Politics in a World of Inequality
Both recognition issues and inequalities have become central to today's politics. Regional, religious, cultural and other identities have been mobilised and demand political recognition and inclusion. At the same time, increased reliance on markets and indeed the very creation of global markets has made it harder to address North/South issues or for national polities effectively to address inequality.
In many western democracies there is a decline in redistribution and government programs are no longer offsetting the inequality generated by the market. Public opinion researchers looking at the welfare state have suggested that increased ethnic and racial diversity has weakened public support for such redistribution. Public policy researchers have in turn explored the effects of inequality on health outcomes and a range of other measures of social well-being. Normative political theorists have set out arguments for greater equality in terms of human rights and the unlocking of human capabilities, as well as social utility. Political economists and others have examined the impact of free trade agreements and, in particular, investor-state dispute resolution mechanisms in reducing the power of national governments to regulate.
Inequality and recognition issues have helped spark both old and new social movements, most recently the Occupy movement that spread from the USA around the world. In the Middle East and in other regions, powerful national mobilisations have shaken and eventually overturned a succession of governments. Political science provides a lens through which to view how both distributional and recognition issues are placed on the political agenda by movements with few material resources. It also sheds light on the political values and institutional frameworks, both local and transnational, which shape responses to the dynamics of global markets, labour migration and increased ethnic and cultural diversity.
The 2016 IPSA World Congress will be a timely occasion on which to refocus the attention of political scientists on issues of redistribution and recognition in all their complexity. These are issues confronted by political actors all over the world and to which political science can bring important insights. It is an opportunity to once again demonstrate the relevance of political science to political practice.
The theme of the Poznań Congress will build on previous themes of IPSA World Congresses concerning democracy, globalisation and the challenges of contemporary governance. We look forward to the insights that will be shared at the Congress by those working in all areas of political science, including international political economy, public policy, political institutions, political theory, political behaviour, social movement and regional studies, migration, race and gender politics.
Comparative Politics, Democracy and Regime Types
Identity Politics, National and Social Movements
International Political Economy and Globalisation
International Relations
Political Institutions and Citizen Engagement
Political Theory
Public Policy and Administration
Daily Highlights
Day 1 - 24 July 2016
Richard Wilkinson's Plenary Lecture on Inequality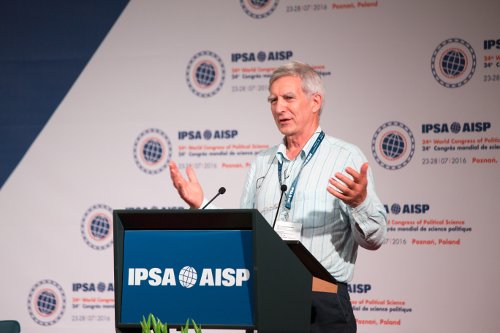 On the first day of the 24th IPSA World Congress, various interesting sessions and events were held. One of the most popular ones was Richard Wilkinson's Plenary lecture The Enemy Between Us. In his lecture, Richard Wilkinson (co-author of the groundbreaking book The Spirit Level), focused on inequality and its impact on people and societies.
According to Prof. Wilkinson, societies with bigger income differences tend to suffer more of a wide range of health and social problems, such as higher death rates, higher levels of mental illness, violence, and lower levels of child wellbeing. In his plenary lecture, Prof. Wilkinson explained the main reasons behind inequality and its impact on societies. Prof. Wilkinson supported his presentation with data and analyses, indicating differences in several countries. He also explained the differences between the understanding of inequality between the United States and Scandinavian countries.
IPSA Past Presidents Discussed the Future of Political Science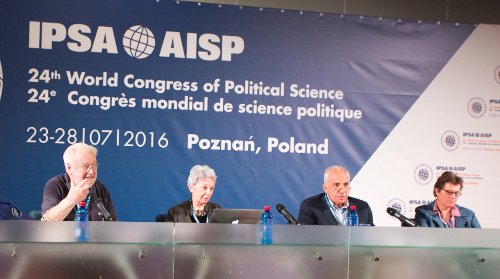 The Roundtable: The Future of Political Science: IPSA Past Presidents Look Over the Evolution of our Discipline gathered IPSA Past Presidents (Helen V. Milner, Lourdes Sola, Leonardo Morlino and Jean Leca) who reflected on the purpose of studying political science, as well as its challenges.
Opening Ceremony of the World Congress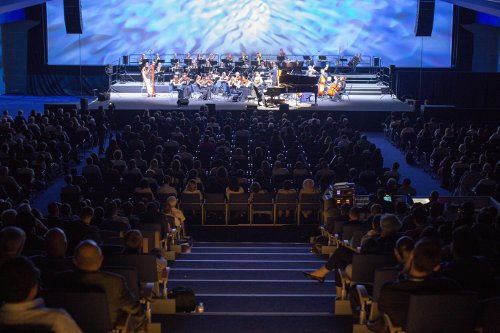 More than 1,000 delegates attended the Opening Ceremony of the 24th IPSA World Congress which took place at the Poznań Congress Center's majestic Earth Hall. The Earth Hall is considered one of the biggest and best concert halls in Poland in terms of acoustics.
Aiji Tanaka (President of IPSA), Tadeusz Wallas and Roman Bäcker (co-chairs of the Polish Local Organizing Committee), Piotr Bartłomiej Dardziński (Under-Secretary of State of the Ministry of Science and Higher Education), Wojciech Jankowiak (Deputy Marshal, Wielkopolska Region), Mariusz Wiśniewski (First Deputy Mayor of the City of Poznan), Jacek Witkoś (Vice-Rector of AMU), Dianne Pinderhughes and Marian Sawer (WC2016 Program co-chairs), Mathieu Denis
(Executive Director of ISSC), Marianne Kneuer (IPSA Executive Committee Member and Chair of the Committee on Research and Training), Teh-Kuang Chang (RC18 Chair), and Guy Lachapelle (IPSA Secretary General) welcomed the IPSA World Congress participants. Speakers also talked about the current situation in Turkey and expressed their solidarity with the Turkish Local Organizing Committee and the Turkish academics who couldn't attend the Congress.
Participants then enjoyed a classical music concert performed by the CoOperate Orchestra from the I. J. Paderewski Academy of Music in Poznań. The concert had two parts: Polish classical music (part 1) and original motion picture scores (part 2). The concert was followed by a cocktail reception generously offered by the Polish hosts.
In brief...
The relationship between militaries and the democratization process was addressed during the session titledThe Politics of Military and Democratization in a World of Inequality
The session titled Turkey, Russia and Equality in the Neoliberal World Order focused on Turkey and Russia, two emerging economies and important regional powers engaged in challenging the presumption of Western hegemony in the international system.
The panel Women's Mobilization for Gender Justice addressed globalization and its impact on women in the global South, as well as mobilization and social engagement in the struggle for gender justice.
ISIL and its impact on the current security situation in the countries of North Africa, the Middle East and the Gulf Region was discussed in the panel titled ISIL as a Challenge to Security and Stability in the MENA Region: Origins and Solutions
Participants of the panel Populism and Political Communication discussed the representation of European political parties in the traditional and social media.
The panel Democratic Learning Curve of Islamists highlighted Islamist parties and their ideological diversity in Muslim-majority countries.
---
Day 2 - 25 July 2016
President's Plenary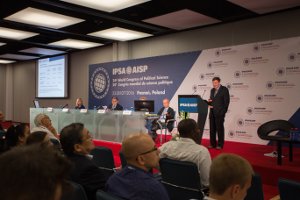 The outgoing IPSA President Prof. Aiji Tanaka chaired the Plenary Session, titled Legitimacy of the Political System: System Support from a Comparative Perspective. The participants of the President's Plenary – Pippa Norris, Hans-Dieter Klingemann, Yılmaz Esmer, Do Shin, and Caroline Van Ham – discussed the question of "When can a political system be perceived legitimate by its members?". According to Prof. Tanaka, the concept of system legitimacy is a multidimensional one, and at least 3 dimensions have been empirically provento exist: (1) community; (2) political actors (or authorities); (3) regime.
Juan Linz Award Lecture by Brendan O'Leary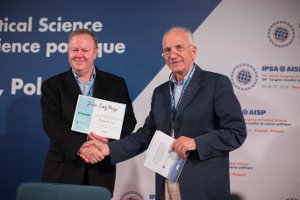 In this special tribute session, Prof. Brendan O'Leary – the Juan Linz Award Winner 2014 – gave his prize lecture, titled Federalism and Kurdish Questions in Iraq, Turkey, Syria and Iran. Prof. O'Leary has regularly engaged in constitutional and policy advisory work, notably in Northern Ireland, Somalia, Nepal, Sudan and the Kurdistan Region of Iraq, and has been employed by the European Union and the United Nations for his expertise on power-sharing, federalism and minority rights. The session was chaired by Juan Rodriguez Teruel, Secretary General of the Spanish national political association.
The purpose of the Juan Linz Prize is to honour a prominent scholar engaged in the Decentralization, Multinational and Multiethnic Integration and Federalism Comparative Research of which Juan Linz was a master.
Special Session - Roundtable: The IPSA-APSA Summer School Experience - Prospects for Cooperation
The panel – composed of Dirk Berg-Schlosser, Alina Vladimirova, Andrew Stinson, Irma Mendez de Hoyos – presented and discussed the experience of the annual IPSA Summer Schools on "Concepts, Methods and Techniques in Political Science" which are held at the University of Sao Paulo, the National University of Singapore, the Middle East Technical University at Ankara, and at FLACSO in Mexico. This experience was compared to APSA workshops abroad and a further cooperation in this regard was explored.
Special Session - 2016 World Social Science Report – "Challenging Inequalities: Pathways to a Just World"
In September 2016 , the International Social Science Council and UNESCO will release the 3rd edition of the World Social Science Report, which this year focuses on the theme 'Challenging Inequalities: Pathways to a Just World.' In this Special Session, Mathieu Denis, John Gaventa, and Natalia Grigorieva focused on how political science (and political scientists) can refocus 'on issues of redistribution and recognition in all their complexity' and how research can contribute to 'transformative pathways to a more equal world.'
World Values Survey Association - Welcoming Reception
At the end of the second day, many delegates attended the World Values Survey Association - Welcoming Reception which took place on the first floor of the Poznan Congress Center.
In brief...
One of the hottest topics nowadays, euroscepticism, was discussed in a panel titled Euroscepticism After the 2014 European Parliament Elections.

Participants of the Internet as an Emerging Policy Domain panel highlighted the impact of digitization on policy domains such as security, consumer protection, and health.

During the panel titled New Perspectives on International Security: A View from Latin America, scholars focused on Latin American countries which have been diversifying their economic and political relations with high-level powers like the US, China, Russia, Iran and created new International Organizations like UNASUR and CELAC.

In the Main Theme session Can Participatory Democratic Reforms Mitigate Inequality?, chaired by Prof. Brigitte Geissel, participants examined how participatory procedures must be designed to attract citizens with different socio-economic backgrounds.

Mediterranean migration crisis and EU policies were addressed in the panel titled The EU Management of the Mediterranean Migration Crisis.

The China at the Crossroads of Nationalism and Regionalism panel, organized by RC18, debated how China faces the issues of nationalism and ethnic and religious empowerment in the context of a sovereign state, especially aware of the problems of security and geostrategic balancing.
---
Day 3 - 26 July 2016
Council Meeting: Election of the new IPSA President
At the IPSA Council Meeting, which took place on July 26th, Prof. İlter Turan was unanimously elected as new President of IPSA, succeeding Prof. Aiji Tanaka. Prof. Turan is Emeritus Professor of Political Science at Bilgi University in Turkey. Prof. Turan's research focuses on Comparative Politics, Turkish Politics, and Turkish Foreign Policy as well as political development, democratization, legislative behavior, political parties, political culture, politics of water and aspects of foreign policy. IPSA is proud to welcome Prof. Turan and we wish him the very best success in his mandate.
Joseph Stiglitz's Video Presentation: Inequality in the 21st Century: A problem for Politics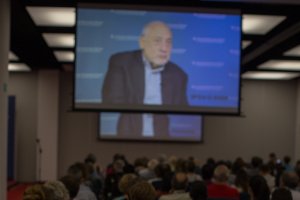 During this Plenary Session, Joseph E. Stiglitz (Winner of the 2001 Nobel Prize in Economics) addressed the Congress delegates by a video presentation titled Inequality: A Problem of Politics in the 21st Century: A Problem for Politics . The presentation followed by a discussion conducted by Phil Cerny, John Gaventa and Helen Milner and Lourdes Sola.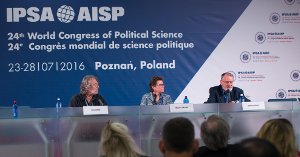 The Meisel-Laponce Award Ceremony and SAGE Reception
The Meisel-Laponce Award Ceremony took place at Poznan Congress Center (PCC-15 / 1.B) at 17:30 honoring award recipients Lingling Qi and Doh Chull Shin. The award ceremony was followed by a reception organized by SAGE Publishing.
Polish Evening hosted by Adam Mickiewicz University (AMU-Morasko)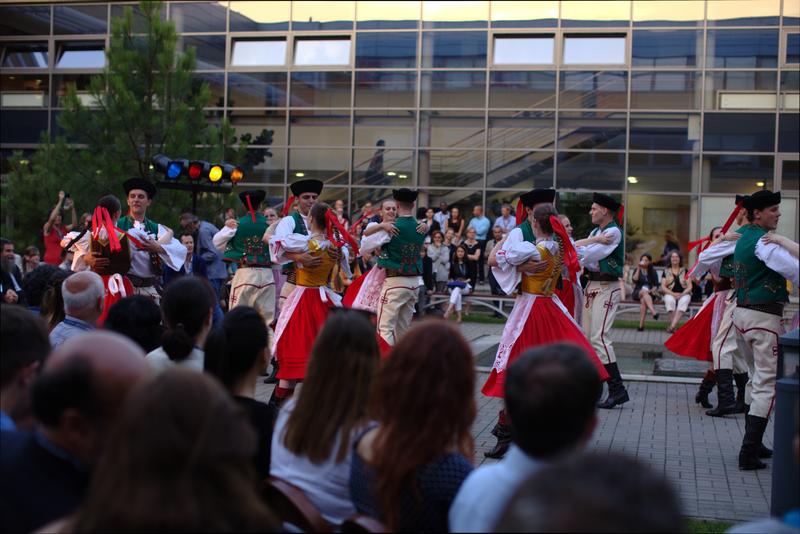 IPSA World Congress participants enjoyed a very well-organized Polish evening organized and hosted by the Faculty of Political Science and Journalism of the Adam Mickiewicz University. Alternative blues band Lord & the Liar performed a concert, followed by a cocktail party. Participants experienced "A Foreigner's Guide to Polish Cuisine" and tasted different kind of Polish delicacies including Polish pierogies, Żurek soup, Polish croissants, Polish kiełbasa (sausage), bread as well as Polish beer.
In brief...
The Global South Award Winner 2016, Prof. Erica Gorbak gave an award lecture titled The Costs of Corruption in Latin America. Why Latin American countries cannot rise?

In the special session titled Roundtable: The 30 Years of "Transition from Authoritarian Rule", participants looked back on the publication of the seminal volume series Transitions from Authoritarian Rule edited by Guillermo O'Donnell, Philippe Schmitter and Laurence Whitehead, 30 years ago. The speakers also critically reviewed the original conceptual framework to adapt it to current circumstances and democratization processes.

Another special session – Politics as a Science (With Apologies to Max Weber) – chaired by Prof. Leonardo Morlino discussed the following question: what approach or even more limitedly what basic theoretical framework do we need in comparative politics today?

Presidents and Secretaries of National Associations met with the newly-elected IPSA President Ilter Turan.

The transition to democracy in Eastern Europe was addressed in the Polish LOC panel Central and Eastern Europe: from Authoritarianism to Democracy?

The questions around social inequality and democracy were debated during the Main Theme session titled The Political Foundations of Democratic Inequality.
---
Day 4 - 27 July 2016
Peter Anyang' Nyong'o - When Democracy Fails Twice: Can Losers Accept the Victors as Legitimate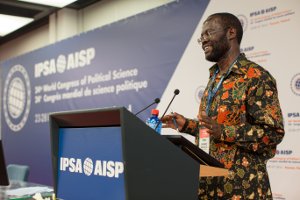 In his Plenary lecture When Democracy Fails Twice: Can Losers Accept the Victors as Legitimate - Peter Anyang' Nyong'o, Senator Peter Anyang' Nyong'o questioned the elections and the legitimacy of the government.
Special Session: IPSA MOOCs: A New Frontier for Online Education
IPSA is launching a pilot set of political science courses in cooperation with Federica Weblearning, the Center of the University of Naples Federico II, with an established record of 300 e-learning courses.
During this special session, Roundtable: IPSA MOOCs: A New Frontier for Online Education chaired by Prof. Mauro Calise, the panelists discussed the weblearning model used for IPSAMOOCs and presented the first set of courses, ranging from Research Designs and Methods to Comparative Political Systems.
Special Session: The Community of Political Science in Russia: 60 Years of Development (1955-2015)
This special session was dedicated to the 60th anniversary of the formation of the political science community in Russia. The start of this process was marked by the participation of the Soviet delegation at the Stockholm IPSA Congress in 1955. The historical development of political studies in the Soviet era, the traditions of cooperation with IPSA as the basis for the formation and development of the Russian Political Science Association, the current state of the political science community in the country were discussed.
Piano Concert by GRAMMY® Winning Pianist Angelin Chang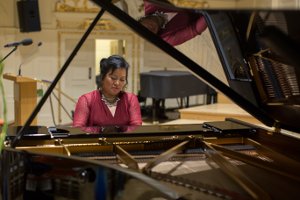 To celebrate the 40th Anniversary of RC18 - Asian and Pacific Studies, Angelin Chang performed a music concert of classical piano repertoire. This special event took place in the beautiful Neo-Renaissance Concert Hall (Aula) of the Adam Mickiewicz University, known for its excellent acoustics. Angelin Chang is the first pianist of Asian heritage to win a GRAMMY®, as well as the first American female awarded.
In brief...
Getting women into government and keeping them in position remain big challenges for countries in the Global South. Paper presenters in the panel The Politics of Representation in the Global South examine the special mechanism of women' representation such as reserved seats, quotas and party mechanisms.
Drawing on research from the Media, Conflict and Democratization (MECODEM) project, the panel Media, Conflict and Polarized Politics focused on how media may both reflect and further exacerbate conflicts in democratizing states.
The panel Post-Conflict Peace Building as Comprehensive Task: Complementary Perspectives from the Ground debated conditions and perspectives of post-conflict peace-building strategies as foreseen by Boutros Boutros-Ghali in his 1992 groundbreaking report 'An Agenda for Peace' with regards to today's challenges.
---
Day 5 - 28 July 2016
Plenary: Confusion in the Debate about Inequality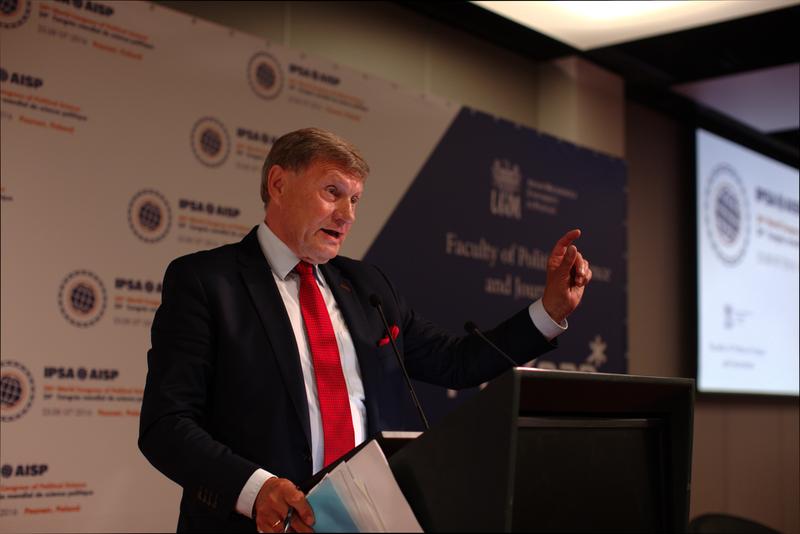 In his Plenary lecture titled Confusion in the Debate About Inequality, Dr. Leszek Balcerowicz (Former Deputy Prime Minister and Minister of Finance of Poland) addressed the problem surrounding the inequality debate. According to him, one source of confusion is the failure to distinguish inequality of opportunity from inequality of situation (wealth, income etc.). While is it easy to agree on what is the ideal inequality of opportunity (none) there is no inter-subjective agreement on what is the ideal inequality of income (wealth).
Special Session: Hyperpolitics, Political Science and Concept Formation
Chaired by Prof. Mauro Calise, the panel gathered paper presenters from a group of PhD students who have studied political science at the Scuola Normale Superiore. Following Hyperpolitics methodology, each participant focused on a specific concept – citizenship, law, capitalism – using the same analytical pattern: a "matrix" of twelve logically interrelated keywords.
Special Session: Roundtable: Academic Freedom - Prospects and Limits
Organized by the Polish Political Science Association (PPSA), this special session focused on the vital topic of Academic Freedom and its limits.
Closing Ceremony of the 24th IPSA World Congress of Political Science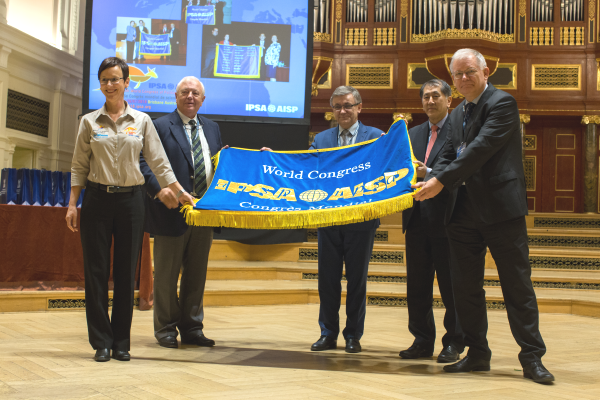 The Closing Ceremony of the 24th IPSA World Congress of Political Science took place at the beautiful Neo-Renaissance Concert Hall (Aula) of the Adam Mickiewicz University, with a series of speeches given by outgoing IPSA President Aiji Tanaka, newly elected President İlter Turan, IPSA Secretary General Guy Lachapelle, WC2016 Program Co-Chairs Dianne Pinderhughes and Marian Sawer, WC2018 Program Co-Chair Füsun Türkmen, Chair of the IPSA WC2018 Local Organizing Committee in Brisbane, Katharine Gelber and representative of the Tourism Australia, Lene Corgan.
The Closing ceremony also featured a performance of the AMU Chamber Choir.
In brief...
The panel Law and International Security gathered critical and plural perspectives from both international and national legal dimensions of security practices and policies, in order to open new avenues of research and applications in this critical area of world politics.
Food security at international and local level and its impact on inequality were addressed during the panel, titled Analyzing Food Security at International, Regional, National, and Local Scales.
The growing tensions between Russia and the Western powers was addressed in this panel titled Geopolitics of Insecurity: the New East-West Confrontation.
Photos and Videos
Photos
Please visit our Flickr page to view or download photos of the 24th IPSA World Congress.
Photo credit: Dominik Kłos
---
Videos
Video & Editing credit: Dawid Kujawa, Jakub Gebski, Tomasz Kaczmarek
Ceremonies
Plenary Sessions
Special Sessions
Award Sessions
---
Daily Video Glimpses
Video & Editing credit: Dawid Kujawa, Jakub Gebski, Tomasz Kaczmarek
Each day two videos were produced to summarize the Congress events and atmosphere.
2016-07-24 Sunday
2016-07-25 Monday
2016-07-26 Tuesday
2016-07-27 Wednesday
2016-07-28 Thursday