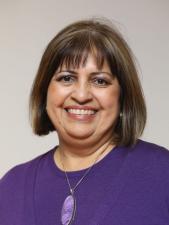 Biography
Irasema Coronado received her bachelor's degree in political science and a certificate of Latin American Studies from the University of South Florida. She has an M.A. in Latin American Studies and a Ph.D. in Political Science from the University of Arizona. Her area of specialization is comparative politics. She is the Director of the School of Transborder Studies at Arizona State University. Previously, she was a professor in the Department of Political Science at the University of Texas at El Paso (UTEP), where she held the Kruszewski Family Endowed Professorship.
She is co-author of the book titled "Fronteras No Mas: Toward Social Justice at the U.S.-Mexico Border" and"Styles, Strategies, and Issues of Women Leaders at the Border" Eds. Mattingly, Doreen and Hansen Women and change at the U.S.-Mexico Border Tucson, Arizona: University of Arizona Press.
She has co-edited "Digame! Policy and Politics on the Texas Border" and the book "Juntos Pero No Revueltos: Estudios sobre la frontera Texas-Chihuahua". She also coauthored "Latinas in Local Government, Políticas: Latina Public Officials in Texas" in 2008. She was the recipient of a Fulbright to Germany in 2002, and a Border Fulbright in 2004 at the Universidad Autonoma de Ciudad Juarez.
President Barack Obama appointed her to serve on the Joint Public Advisory Committee of the Commission for Environmental Cooperation in North America in 2010.
Irasema Coronado served as the executive director of the Commission for Environmental Cooperation of North America 2012-2016. The Commission for Environmental Cooperation facilitates collaboration and public participation to foster conservation, protection and enhancement of the North American environment for the benefit of present and future generations, in the context of increasing economic, trade, and social links among Canada, Mexico, and the United States. Hispanic Business Magazine named her one of the Top 100 Influential Hispanics in the United States in October of 2010.
She serves on the MS Magazine academic advisory board and is co-chair of the Coalition Against Violence Toward Women and Families on the US-Mexico border.
Her present research includes the impact of the deportation process on families and children, women in politics, environmental cooperation, and U.S.-Mexico border politics.