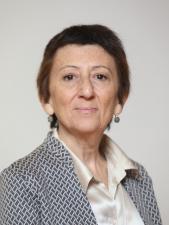 Biography
Francesca Longo is a Ph.D. Doctor of International Relation and Full Professor of Political Science and International Relations at the University of Catania, where she serves as Vice-Rector for International Relations and as coordinator of the MA Program on Global Politics and Euro- Mediterranean Relations. She is also Jean Monnet Professor of European Union Policy and President of the Italian Political Science Association (SISP).
She is a member of the Steering Committee of the Italian European Studies Association (AUSE) and member of the Editorial Board of the "Peace Human Rights Governance Journal".
She leaders the Italian research group working on the H2020 EU-funded research project "PROTECT The Right to International Protection. A Pendulum between Globalization and Nativization?"
Francesca Longo has authored and co-edited a list of publications in the field of political science and international relations. Her primary research focuses on the European Union political system, European Union security policy, and, more recently, on global and European policy on migration and asylum. Moreover, she authored and co-edited articles and a book on Italian foreign policy and Italian migration policy in Italian and international Journals.
She has held the DAAD fellowship at the Cairo University and a visiting professorship at the University of Liege.