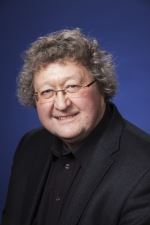 Born in Passau, Germany, in 1953. 1959-1963 primary education in Büchlberg;  1963-1972 secondary schooling in Passau (with a focus on Latin and ancient Greek).  1972-1974 military service;  afterwards active as reserve officer in the army. 1974-1980 studying political science, sociology and history (with some excursions to philosophy and history of art) at the Universities of Munich (Germany), Strasbourg (France) and Ann Arbor (USA). 1978 starting a 'second life' as a chorus conductor, when the Angath chorus festival was founded. 1980 obtaining the degree of Magister Artium (thesis on 'References to history in political science'); afterwards teaching and research assistant at the Department of Political Ccience at University of Passau. 1984 PhD (thesis on 'Ethnomethodologoy: theory, empirical studies, and its possible contribution to political science'). Subsequently assistant professor of political science at University of Passau, Department of Political Science. 1990 last step in the academic qualification process by 'habilitation' (thesis on 'Role orientations and constituency work' of Bavarian MPs on state, federal, and European levels). – Since 1991 active at Dresden University of Technology, first as founder of, since 1992 as full professor of comparative government at, this university's Department of Political Science.
Since then intensively engaged in building up the system of political education in Saxony, as a consultant to government and parties, and as commentator of political events in Saxonian and nation-wide press, radio, and TV. Visiting professor at Paris, Sorbonne, in 2000. Married in 1987; widower in 1996; remarried 1999; two children. In 2003, transferral of the Angath chorus festival to Schmochtitz (near Dresden).

Serving in a number of civil society associations; from 1994 to 1999 member of a Saxonian community council. Editor or co-editor of all central German publication series on legislative research (Zeitschrift für Parlamentsfragen, book series 'Studien zum Parlamentarismus', Kommission für Geschichte des Parlamentarismus und der politischen Parteien). Active in IPSA's research committee 08 (legislative specialists) since 1993; co-chair of RCLS since 2007; representative of the German Political Science Association to IPSA since 2009; elected into IPSA's Executive Committee in 2009.

Scientific interests were focused on epistemological and methodological issues at first; subsequently they extended to micro-sociological studies of the processes of political reality construction. By the end of the 1980ies, legislative studies had become the central field of research, including behavioral and attitudinal analyses of members of parliament, survey research on citizens' perceptions of parliaments and other central political institutions, organizational and ideological analysis of political parties, and institutional analysis of representative assemblies in cross-national and cross-historical perspective. In a series of major empirical research projects between 1991 and 2008, this research field was covered systematically. In the recent years, a general evolutionary approach to institutional analysis was developed and applied to comparative regime analysis.
Curriculum Vitae (pdf, 284 kb)