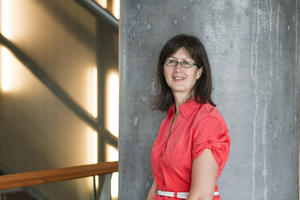 Linda Cardinal is full professor at the School of Political Studies at University of Ottawa (Canada). She is also chairholder of the Research Chair in Francophone Studies and Public Policy and principal investigator of the Community-University Research Alliance on Knowledge-Based community governance in the area of language planning. Her research interests include comparative language planning, langue regimes and linguistic minorities as well as issues of innovation, public governance, identity and citizenship in Canada and Québec. She also has an interest in social movement, collective action theories and in the history of ideas.
From 2002 to 2004, Linda Cardinal was Craig-Dobbin Chair of Canadian Studies at University College Dublin (Ireland). From 2006-2007, she held the Chair in Canadian Studies at the Université Sorbonne-Nouvelle Paris 3 (France). She is also a member of the Centre de recherche interdisciplinaire sur la diversité au Québec (CRIDAQ) and of the Centre de recherche sur l'immigration, l'ethnicité et la citoyenneté (CRIEQ), both located at the Université du Québec à Montréal (UQAM).
Linda Cardinal has published and directed several works related to her themes of research including: Minorités, langue et politique (2010), Le conservatisme : le Canada et le Québec en contexte (Presses de l'Université Sorbonne Nouvelle, 2009), Le fédéralisme asymétrique et les minorités linguistiques et nationales (Prise de parole, 2008) and Managing Diversity: Practices of Citizenship (University of Ottawa Press, 2007). She has published numerous articles in well known journals in English and in French: Cultures et conflits, International Journal of Canadian Studies, International Journal of Sociology of Language, International Journal of Multicultural and Multilingual Development, Language Planning and Language Problems, Politique et Sociétés. Her work has also been translated in Spanish, Catalan and German.
Linda Cardinal sits on the Executive committee of the International Association of Political Science (IPSA). From 2008 to 2009, she was President of the Société québécoise de science politique (SQSP). From 2009 to 2012, she has been the SQSP representative at IPSA. From 2006 to 2012, she has co-chaired IPSA's RC 50 on Language and Politics. From 2001 to 2004, she directed a Québec journal of political science, Politique et sociétés.