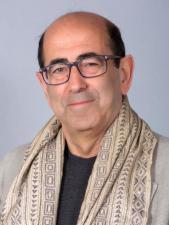 Mauro Calise (1951) is Professor of Political Science at the University of Naples Federico II, Italy.
His main research areas include: political parties, executive elites, state theory, e-government, political communication, concept analysis.

Among his major research projects, he has been in charge for the concept and software development of the Web Portal for the 3rd International Global Forum on "Reinventing Government", Naples, March 2001 and is now working at a Platform Upgrade for Research-oriented Access.
He is currently working, with Theodore J. Lowi, at completing Hyperpolitics, an Interactive Encyclopedia of Political Science and a computer based platform for the hypertextual investigation of political science concepts.

He has been Visiting Professor at Cornell University (2002, 1997, 1991) and Research Fellow at the Center for European Studies, Harvard University (1978-79).
His latest book, Il partito personale, Laterza 2000, focuses on the personalization of party organization in the era of mass communication. His latest English publications include: Corporate Authority in a long-term Comparative Perspective- Differences in Institutional Change between Europe and the United States, "Beihefte zur Rechtstheorie", Supplements to Legal Theory, Duncker & Humblot , 2002 and (co-author, with Theodore J. Lowi), Hyperpolitics: Hypertext, Concepts and Theory-making, "International Political Science Review", 2, 2000

He serves on the editorial boards of "International Political Science Abstracts", "International Political Science Review", "Rivista italiana di Scienza Politica", "Quaderni di Scienza Politica".