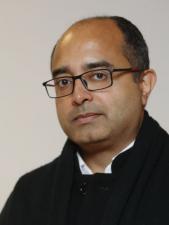 Dr. Indrajit Roy is Senior Lecturer at the University of York's Department of Politics and co-director of the York Interdisciplinary Global Development Centre. His research and teaching strengthen critical approaches to ordering global development politics. He does this through three projects: (i) The politics of inclusive growth in the global South; (ii) The comparative 'politics of hope' across the global South and global North; and (iii) The impact of "rising powers" on the global order. He holds a D.Phil from the University of Oxford.
Indrajit authored Politics of the poor: Negotiating democracy in contemporary India (Cambridge University Press, 2018). He is also co-curating the Cambridge Companion to Indian Politics and Society. Additionally, Indrajit is editor of the just-published Manchester University Press volume Passionate politics: Democracy, development, and India's 2019 general elections; co-editor of the forthcoming Oxford University Press volume titled Rising Power, limited influence: The Politics of Chinese Investments in Europe and the Liberal International Order; and is co-writing a textbook on Global Development Politics, under contract with Routledge. His research has been published in peer-reviewed journals such as World Development, Policy and Society, and PS: Political Science and Politics. He contributes frequently to the media such as BBC, Guardian, Independent, The Conversation and Indian Express.
Indrajit is committed to collaborative research that not only involves scholars from beyond the social sciences but includes activists, artists, and policy-shapers. His teaching is oriented towards perspectives that contribute to decolonising and diversifying the curriculum. A Fellow of the Higher Education Academy, he won a Teaching Excellence Award in 2016. Indrajit is also the Trustee of the UK Political Studies Association and Council Member of the UK Development Studies Association. Before returning to academia, Indrajit was a development practitioner, having worked at CARE, Catholic Relief Services, and the World Bank.