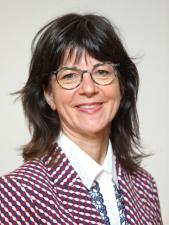 Biography
Anja Jetschke is an Associate Professor of International Relations at the Department of Political Science at the University of Göttingen. She served as the co-director of the German Political Science Association between 2016-2018, and currently co-directs the Center for Global Migration Studies at the University of Göttingen: https://www.uni-goettingen.de/en/547763.html
Anja Jetschke holds a Ph.D. from the European University Institute, Florence (2001). From 2001 to 2010 she held the position of Assistant Professor of Political Science at the University of Freiburg. From 2012-2015 she served as the head of research programme IV "Power, Norms and Governance in International Relations" at the GIGA German Institute of Global and Area Studies in Hamburg. She has held visiting research positions at Ohio State University, Stanford University, the University of Singapore, the Social Science Center Berlin, and the Center for Global Cooperation Research at the University of Duisburg-Essen.
Anja Jetschke's main research areas are the establishment and the effects of the institutional design of international and regional organizations.
In this area, she pursues two large projects:
The DFG-sponsored Comparative Regional Organizations Project (CROP) conducts a large-N analysis of the factors determining the institutional design of regional organizations: The project systematically tests hypotheses derived from theories of diffusion, institutional design, regional integration, and realism: https://comparativeregionalorganizations.org/
The project "Regional Integration in Asia" conducts a mixed-methods analysis of the dynamics and special characteristics of regional integration in Asia based on the Association of Southeast Asian Nations (ASEAN).