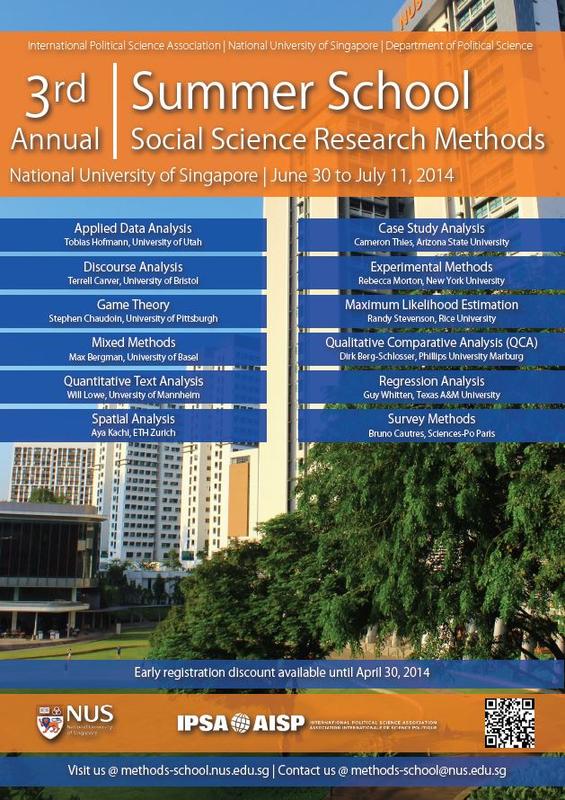 3rd Annual IPSA-NUS Summer School for Social Science Research Methods
June 30-July 11, 2014
National University of Singapore
Singapore
The 3rd Annual IPSA-NUS Summer School for Social Science Research Methods took place in Singapore in July 2014. It was hosted by the National University of Singapore's Department of Political Science.
The IPSA-NUS Methods School offered rigorous training in a wide variety of social science research methods. Once again it attraced more than 100 participants from around the world from countries including Australia, Austria, Bangladesh, Belgium, Brazil, Canada, China, Croatia, Denmark, England, Germany, Greece, Holland, Hong Kong, Indonesia, Korea, Mexico, and Spain. Participants were able to choose between nine courses. A good indication of the popularity of the event is that most of the instructors had already taught in Singapore at least once and were very pleased to be able to return:
- Applied Data Analysis (Tobias Hofmann, University of Utah)
- Discourse and Visual Analysis (Terrell Carver, University of Bristol)
- Mixed Methods (Max Bergman, University of Basel)
- Quantitative Text Analysis (Inaki Sagarzazu, Glasgow University)
- Case Study Analysis (Cameron Thies, Arizona State University)
- Experimental Methods (Rebecca Morton, New York University)
- Qualitative Comparative Analysis (Dirk Berg-Schlosser, Philipps University of Marburg)
- Regression Analysis (Guy Whitten, Texas A&M University)
- Survey Methods (Bruno Cautrès, Sciences-Po, Paris)
The participants and instructors met each morning in the seminar room, and the afternoons were reserved for lab sessions and hands-on exercises. In addition to the regular class meetings, the Methods School organized an international speakers series on topics including 'The Politics of Singapore', 'Geography, Territory and War', 'What Can Weak Parties Say?', and 'Emerging Powers, Identity and Conflict Behaviour'. The Methods school also provides talks on issues to do with professionalization such as 'Writing and Publishing Academic Journal Articles' and 'Applying for VIsiting Scholar Positions and Postdocs.' Last but not least it offers a packed social programme including a walking tour of the historic Chinatown district and a night safari at Singapore zoo!
The Methods School was a huge success and is now probably the leading training program for social science research methods in the Asia-Pacific. It provides participants with an excellent learning experience and its growing network of alumni is creating a global pool of students, post-doctoral fellows, university faculty, civil servants, and private sector researchers with an interest in advanced quantitative, qualitative, and formal research methods.