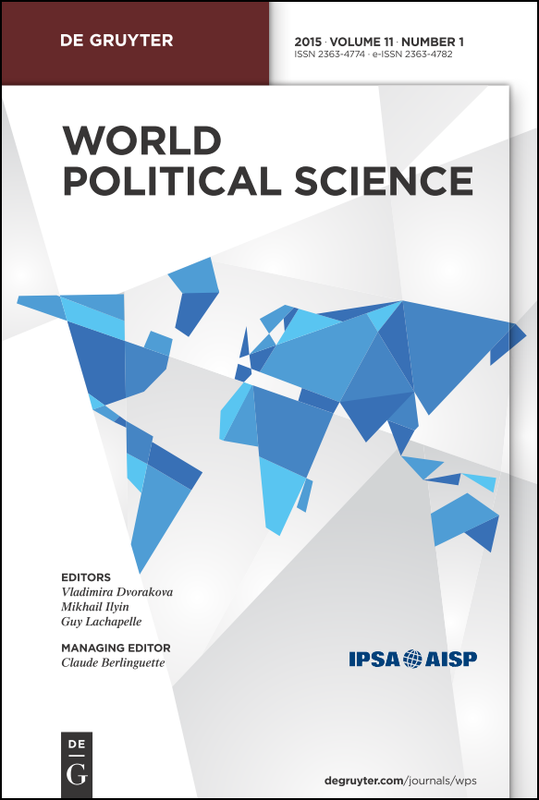 About World Political Science (formerly World Political Science Review)
ISSN 2194-6248, e-ISSN 1935-6226
World Political Science (WPS) is a journal co-owned by the International Political Science Association and published by De Gruyter. It publishes translations of prize-winning articles nominated by prominent national political science associations and journals around the world. Scholars in a field as international as political science need to know about important political research produced outside the English-speaking world. WPS gathers together and translates an ever-increasing number of countries' best political science articles, bridging the language barriers that have made this cutting-edge research inaccessible up to now.
Articles in the World Political Science cover a wide range of subjects of interest to readers concerned with the systematic analysis of political issues facing national, sub-national and international governments and societies. Fields include Comparative Politics, International Relations, Political Sociology, Political Theory, Political Economy, and Public Administration and Policy. Anyone interested in the central issues of the day, whether they are students, policy makers, or other citizens, will benefit from greater familiarity with debates about the nature and solutions to social, economic and political problems carried on in non-English language forums.
World Political Science is published by De Gruyter. For more information regarding the content of past issues, please visit their website.
Submit Your Paper
WPS does not accept unsolicited manuscript submissions.
Editors
Editorial Board
Please click here and select the "Editorial Information" tab to learn more about our Editorial Board.
Annual Subscription
NON-MEMBERS OF IPSA
Please visit the De Gruyter Website

MEMBERS OF IPSA
Individual members get a free online access to all articles published in World Political Science.

To access WPS content, log into your IPSA online account.
Click on "My Publications" on the top menu, then on "WPS online".

For US $27 per year, individual members will receive the two issues printed yearly.

To become a member of IPSA, refer to the Membership section.