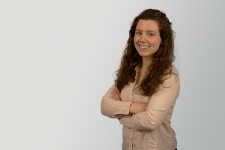 Email: breanna.clark@ipsa.org
Breanna Clark is the newest addition to the IPSA Secretariat. She is joining the World Congress and Events Team in preparations for World Congress 2023 Buenos Aires.
Breanna graduated from the Bachelor's in International Studies with a specialization in International Law from the University of Montreal in 2021. Her main research interests revolve around Middle Eastern politics, history and religions. 
After finishing her degree on exchange at the University of Beirut, she interned at the United Nations Environment Programme's (UNEP) Regional Office in West Asia which allowed her to simultaneously work on two subjects she is passionate about: Environmental Studies and Contemporary Middle Eastern Politics. After working at UNEP, Breanna went on to work in Monitoring and Evaluation for the non-governmental organization l'Aide internationale à l'enfance and their partner in Nicaragua, la Asociación Cristiana de Jóvenes (ACJ-YMCA). 
She was involved in many university groups including Amnesty International (President), the UdeM National Model United Nations Delegation (Ambassador), Women in International Security (Treasurer) and the UdeM Student Association for Political Science and International Studies (Graduate Representative).
Outside of work, Breanna's hobbies include music, martial arts, and photography.