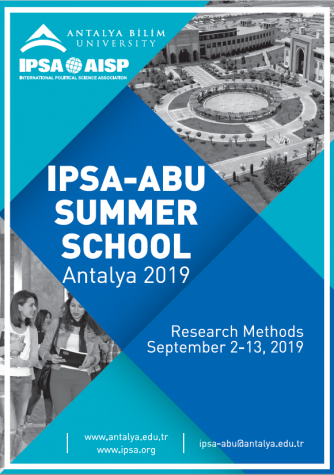 The International Political Science Association (IPSA) and the Political Science and International Relations Department at Antalya Bilim University (ABU) are jointly organizing IPSA – ABU Summer School for Social Science Research Methods in Antalya (Turkey), from 2 to 13 September 2019.
The School offers advanced training for any graduate students and scholars aiming to strengthen their methodological skills. We aim to bring together participants from all around the world with a particular focus on Africa, Europe, Eurasia as well as Turkey.
IPSA – ABU Summer School is a significant opportunity for expanding methodological knowledge and skills, discussing research, and building future collaborations in the wonderful city of Antalya.
Our summer-school program offers 8 courses with a balance between qualitative and quantitative approaches. These courses are:
Case Study Research and the Grounded Theory Approach (Dr. Werner Patzelt, Technical University of Dresden)
Comparative Research Designs and Comparative Methods (Dr. Dirk Berg-Schlosser, Phillips University, Marburg)
Introduction to Text and Content Analysis Techniques (Dr. Matthias R. Hastall, Technical University of Dortmund)
Structural Equation Models (Dr. Sedef Turper, Koç University, Istanbul)
Experimental Survey Methods (Dr. Erdem Aytaç, Koç University, Istanbul)
Network Analysis (TBA)
Survey Methods – in Turkish – (Dr. Ali Carkoglu, Koç University, Istanbul)
Regression Analysis – in Turkish – (Dr. Cerem Cenker Ozek, Antalya Bilim University)
Courses will include regular class meetings, lab sessions, and practice hours. Participants will also gather for lunches, evening talks, and other social activities.
For more information please e-mail: ipsa-abu@antalya.edu.tr
Local organizer: Dr. Nermin Aydemir