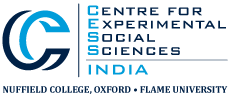 Job Description
The Centre for Experimental Social Sciences is looking for motivated lab researchers who currently hold Junior Faculty or Post-Doc positions at leading global universities to become Faculty Affiliates of CESS Nuffield - FLAME University in India.
These co-appointments come with travel funding, research funding and RA support to conduct laboratory experiments in India with three different subject pools:
College students in Pune (English or Hindi speakers)
Low-income groups (Hindi & other Indian language speakers)
The CESS online subject pool (covers Chile, India, UK)
To apply, please send a current CV and a two-page summary of a lab experiment that you would like to conduct in Pune to cess@flame.edu.in. We prefer to receive applications by 30 June, 2019.
Please make sure your summary covers the research question, subject demographics and number required, randomized groups/ treatment arms, and what the subjects would do in the experiment.
Affiliations to begin sometime between August and November 2019.