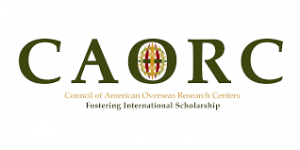 Job Offer Information
Where
Le Centre d'Etudes Maghrébines à Tunis
Job Description
The Council of American Overseas Research Centers (CAORC) in coordination with Le Centre d'Etudes Maghrébines à Tunis (CEMAT) is currently accepting applications for a unique and exciting fellowship position in the humanities based in Tunis, Tunisia. The position will be hosted at CEMAT for one year with possible renewal for up to three years. CEMAT is currently building its humanities portfolio, particularly in the field of modern art history as well as in film and literature, in Tunisia, Morocco, Algeria and Libya. The fellowship position will be programmatic and administrative and will allow time for independent research and writing. Graduate students are strongly encouraged to apply.
The position's emphasis is in modern art history, but also necessitates an interest in film, history and literature. The successful candidate will coordinate a new program at CEMAT that seeks to support the field of modern art history and related cultural fields by building a network of graduate students, academics, practitioners, and researchers. An interest in the humanities in the Maghreb is a must and experience in working in multi-linguistic and cultural settings a plus. The ability to work independently, think creatively, communicate effectively with different audiences, strong writing, reporting and organizational skills, and an interest in research-based projects is necessary. The fellowship opportunity requires administrative coordination of multiple events, regular communication and relationship building with project stakeholders in multiple languages.
The CAORC Humanities Fellow must have or be currently enrolled in an advanced degree program, be proficient in English and have familiarity with Arabic/French. The ideal candidate has excellent communication skills, can deal with myriad tasks, occasionally stressful workloads, and can work with and manage effectively different types of personalities.
Please send a letter of interest and CV with the subject line "Humanities Fellow / Coordinator" to info@cematmaghrib.org. The search will remain open until the position is filled.
This position is funded by the Andrew W. Mellon Foundation through the Council of American Overseas Research Centers.