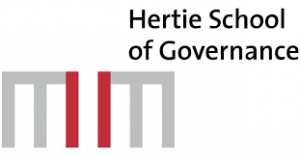 Job Offer Information
Where
The Hertie School of Governance
Job Description
The Hertie School of Governance in Berlin will accept applications for its DOCTORAL PROGRAMME IN GOVERNANCE between 1 December 2018 and 31 January 2019. The start of the programme is in September 2019.
The three-year doctoral programme offers rigorous academic training and familiarises students with cutting-edge methods in public policy research. The programme addresses exceptional candidates committed to research on public policy related research questions. The programme is interdisciplinary, but offers a specialisation within economics, law, political science, and sociology.
Key selection criteria are the thematic fit of the dissertation proposal with the research agenda of the Hertie School and its faculty members, the applicant's academic performance and references, and the overall motivation.
We are particularly looking for students working in the fields of:
European Integration
International Security, especially Empirical Conflict Studies
(Protection of) Fundamental Rights
Sustainability and Climate Change
Digital Governance
Political Economy and Social Policy
Public Policy and Demographic Change
The programme is fully funded (10 three-year stipends). The application period is from 1 December 2018 to 31 January 2019. For more information on deadlines and the admission process please visit our website at www.hertie-school.org/docgov/ or contact us at: phd-applications@hertie-school.org
The Hertie School of Governance is an international teaching and research centre of excellence that prepares students for leadership positions in government, business, and civil society. An interdisciplinary focus and policy orientation distinguish the School's research agenda. Internationally recognised academics make up the core faculty. Together with visiting faculty, postdoctoral researchers, and PhD students they cover a broad spectrum of issues in their teaching and research. First-rate publications and a broad range of research projects and cooperations with partner institutions in Germany and abroad are further marks of research at the Hertie School.