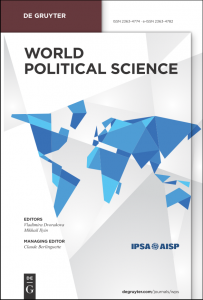 Job Description
World Political Science (WPS), a journal co-owned by the International Political Science Association (IPSA) and De Gruyter, is seeking an assistant editor to work with Linda Cardinal, the Editor-in-Chief, and Ana Figueroa, Assistant Editor, during the editor's tenure of four years. At this time, we specifically search for an editor with Slavic language skills. There will be a transition period of several months following the editor's appointment to enable familiarization with the editorial process.
WPS is a De Gruyter publication. WPS publishes English translated versions of Award-winning or widely acclaimed articles published around the world in other languages. The articles are nominated by national political science associations or professional journals.
WPS was born out of the conviction that scholars in a field as wide-ranging as political science need to have access to relevant research published outside the English-speaking world in such fields as comparative politics, international relations, political sociology, political economy, political theory, public administration, and public policy. To pursue its conviction, IPSA has joined forces with De Gruyter to produce WPS. The assistant editor will contribute to the journal's efforts to identify and publish articles of distinction in various sub-disciplines of political science.
The assistant editors are expected to:

•    collaborate actively with national associations and journals to identify articles; suitable for publication (articles submitted to the journal have to be translated into English by the nominating agency);
•    ensure the reviewing of the manuscripts using De Gruyter's online management system;
•    help the editor make decisions regarding the publication of submitted articles;
•    edit manuscripts to ensure that they are written in proper English;
•    develop ideas to strengthen the position of the journal as a professional publication in political science;
•    work in a collaborative spirit with the editor and the key personnel at De Gruyter including the production editor, marketing manager, and the managing editor.
Candidates for the position should have:

•    fluent in written English;
•    Slavic language skills;  
•    a record as a distinguished political scientist in her/his field;
•    a commitment to international political research;
•    previous editorial experience;
•    familiarity with the work of IPSA and its Research Committees.
The successful candidate will be expected to become an individual member of IPSA; help prepare an annual report that is presented to the IPSA Executive Committee; contribute to the work of IPSA's Committee on Publications.
Inquiries can be made to Yuko Kasuya (ykasuya@law.keio.ac.jp). Applicants should e-mail Professor Kasuya a CV and an accompanying statement describing their interest in WPS and their ideas for moving the journal forward.
The closing date for applications is 30 January 2019.