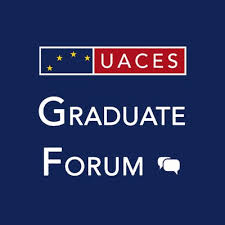 Event Information
Location
Manchester Metropolitan University
Organization
The academic association for contemporary European Studies
Synopsis
This two-day conference provides a friendly environment for postgraduate and early-career researchers (ECRs) to present their work, receive feedback and dialogue with each other. It offers an ideal introduction to the UACES community.
The conference features a keynote lecture and an academic-practitioner roundtable alongside a programme of research presentations from aroud 50 PhD students and Early Career Researchers (ECRs) in the field of European Studies, which includes disciplines such as (but not limited to) Political Science, Law, International Relations, History, Economics, Sociology, Geography and Anthropology.
Keynote Speaker: Dr Nicholas Startin (University of Bath, UACES Chair)
This conference is supported by the Erasmus+ Programme of the European Union.
Call for Papers
'What for the Next European Century?'
The year 2019 brings significant change for the European Union. The Article 50 deadline on 29th March is set to see the UK become the first member state to leave the EU. The European Parliament elections in May will be significant for the future direction of integration, as many watch to see whether the vocal populist movements can translate support into electoral success, and what this will mean for Europe. There are continuing challenges in terms of migration, climate governance and trade, as well as cooperation with non-EU countries. Alongside this, 2019 also marks the anniversary of momentous times in Europe's past such as the peace accords following the end of WWI, the establishment of the League of Nations and more recently the fall of the Berlin Wall.
All these events have represented changes to Europe's place in the world order. To look upon uncertain times with academic favour, a timely opportunity exists to take stock of the past and think ahead to consider possible futures for Europe.
We invite paper and panel proposals that examine one or more aspects of this theme from all European Studies disciplines and related areas: for example (but not limited to) Political Science, Law, Sociology, Economics, History, Gender Studies, Anthropology, International Relations, Public Policy etc. We hope the conference will address the topic in a variety of ways and from a range of perspectives.
For inspiration, check out the articles and interviews in the recent JCER Special Section (2018, Volume 14 [4]), entitled 'The Next European Century?'