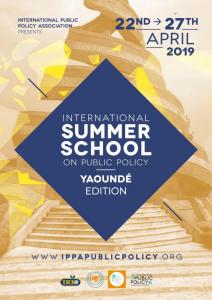 Organization
International Public Policy Association
Synopsis
IPPA is proud to introduce its first "International Summer School on Public Policy - Yaounde 2019". Co-organised by IPPA, the CAFRAD (Centre Africain de Formation et de Recherche Administratives pour le Développement) and the International Relations Institute of Cameroon (IRIC), the Summer School will be held in Yaounde and Kribi on April 22-27, 2019.
The main objective of the summer school is to provide advice and knowledge on Public Policy theories, concepts and methodologies to analyze public policy to PhD students and young scholars.
Lectures and Courses will happen in the morning and workshops in the afternoon. The participants have the choice to attend courses and workshops either in French or English. All lectures, courses, and workshops will be given by International scholars, such as:
for the courses taught in English, Guy Peters and Anna Durnova
for the courses taught in French, Philippe Zittoun and Stéphane Monney Mouandjo
Each PhD student and young scholar will have the opportunity to follow:
Four 1 hour lectures (4x 1h) in English. Lectures will be delivered by a different International scholar to all participants, to obtain an overview of specific approaches, concepts and theories.
Eight hours of course (4x 2h) in English or French by an international scholar on a specific issue. Participants will be split into groups of 10-15 students with a dedicated teacher throughout the week.
Each student can choose the course he or she wants to attend.
Twelve hours of workshop (4x 3h) in English or French with a small group of 10 to 15 students to discuss participant's research projects or research article. Each project will be discussed for 45 minutes - 1 hour.
Call for applications: February 04-20, 2019
Results of call for applications: February 23, 2019
Payment deadline to confirm your participation: March 10, 2019 (possibility of pay in 1 or 2 installments)
To ensure your participation to the Summer School, we strongly advise you to apply at the earliest.