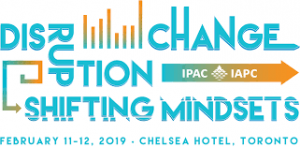 Organization
Institute of Public Administration of Canada
Synopsis
IPAC's National Leadership Conference is designed to provide leaders, practitioners, and academics working in or with the public sector the opportunity to connect with and learn from leading edge experts who successfully tackled disruption and change.
Distruption, Change and Shifting Mindsets Will:
Give you key information, tools and examples of how you can successfully manage change, tackle disruption and shift the mindset of an organization.
Engage you with cutting edge leadership development workshops that will enhance your ability to lead in a fluid, shifting environment.
Provide you with access to renowned experts who led public sector organizations through complex, disruptive times and successfully implemented changes that reshaped and improved their organizations and teams.
Showcase IPAC's new Excellence in Public Service Award.
Increasingly leaders must manage disruption along with change. In an environment where disruption is both sought and feared, where change has become a permanent requirement for both individuals and organizations, leaders across the globe are increasingly looking at how to shift the mindset of their organizations.
You can develop a set of skills that will enable you to shift mindsets and successfully manage disruption while enabling your organization to thrive in and respond to an increasingly fluid world. Our conference will provide you with the ideas, insights, and tools to succeed in your transformational leadership path.
The conference will focus on 3 key themes:
Managing the drivers of disruption
Leading change & shifting mindsets
Transforming your organization for the 21st century
How can we lead change in a time of disruption? How can public sector organizations best respond to these trends? What strategies can be applied to shifting the way in which organizations 'think' and 'work' in an age of rapid and fluid change?
Our conference will tackle these critical questions and is focused on helping you navigate and succeed in the landscape of disruption by unlocking the key tool of shifting the mindset of your own organization.