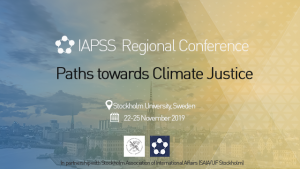 Event Information
Location
Stockholm University & Swedish Defence University
Organization
The International Association for Political Science Students (IAPSS)
Synopsis
The International Association for Political Science Students (IAPSS) is launching its Call for Papers for the Regional Conference in Sweden. This year, in partnership with the Stockholm Association of International Affairs (SAIA/UF Stockholm), a youth non-profit association that aims to broaden interest and understanding of international affairs. 
Are you an undergraduate, graduate, Ph.D. student, or even a junior scholar? We welcome all academic perspectives to join the exciting academic discussion!
Priority deadline for Abstracts Submissions: August 12, 2019 
Regular deadline for Abstracts Submissions: August 26, 2019
Theme
In line with IAPSS' Annual Theme 2019 - "Overcoming Injustice," the Regional Conference in Stockholm invites you to debate injustice related to climate change. 
Subthemes
Given the breadth of the theme on Climate Justice, we welcome contributions focusing on a variety of perspectives. 
Climate Justice & … 
Migration
Human rights & equality
Security
Disaster risk reduction and crisis management
Health, food & water security
Civic action
Governance (international cooperation, national sovereignty, regionalism etc.)
How it's shaped by economic governance. 
Guidelines for Paper Submissions
Please send us your abstract of no more than 250 words through the online form at http://bit.ly/2M5WrYV. 
The priority cycle of abstract evaluations is for those who would like to be informed about their decisions by 26 August 2019. If you would like to be considered in the priority cycle, you must submit your abstract by 11:59 CET, 12 August 2019. 
The regular deadline for abstracts will be 11:59 CET, 26 August 2019. Candidates will be informed by 9 September 2019.
Full papers should be submitted via the available online form at www.iapss.org by 21 October 2019.
Registration
Please note that you need to be registered for the Regional Conference by purchasing your ticket in the IAPSS Web Store (https://bit.ly/31dHeci). The final deadline for registration for all panellists is September 23. 
Keep up to date by following the Facebook event - http://bit.ly/2YcOhjB
Please do not hesitate to contact us in case of any further questions at: general questions: erc-info@iapss.org & information about student panels: erc-panels@iapss.org