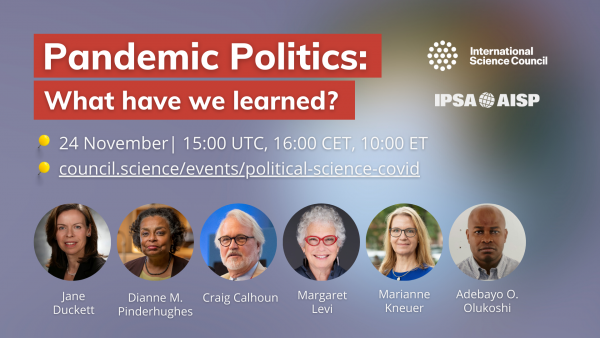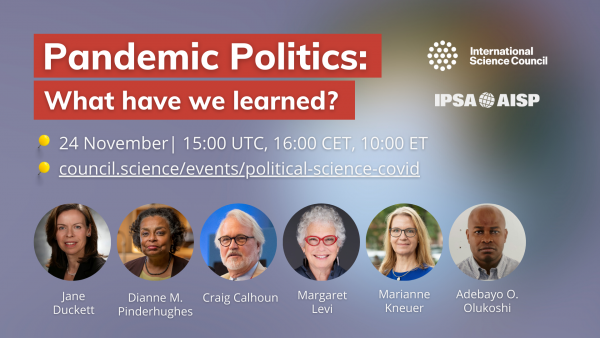 International Science Council-IPSA Webinar on "Pandemic Politics"
Publication date: Tue, 09 Nov 2021
The International Science Council (ISC) and IPSA will present a joint webinar on political science and the impact of the COVID-19 pandemic, entitled Pandemic Politics: What have we learned? on 24 November 2021 at 15:00 UTC. 
The free webinar will be introduced with opening remarks by IPSA President, Dr. Dianne M. Pinderhughes, and chaired by Craig Calhoun, Professor of Social Sciences at Arizona State University.
Jane Duckett, Edward Caird Chair of Politics and Director of the Scottish Centre for China Research, will give the keynote lecture. In her presentation, Prof. Duckett will discuss how political scientists have researched the pandemic and what they have discovered so far. She will then reflect on what the pandemic tells us about contemporary Political Science research as well as the limits and future of the discipline.
Prof. Duckett's presentation will be followed by comments from three distinguished discussants and a Q&A session: Prof. Dr. Marianne Kneuer, IPSA Past President; Prof. Margaret Levi, Sara Miller McCune Director of the Center for Advanced Study in the Behavioral Sciences (CASBS); and Dr. Adebayo Olukoshi, Distinguished Professor at the University of the Witwatersrand.
Agenda
(Times refer to UTC)
15:00 – 15:05: Welcome by Dianne M. Pinderhughes, President of IPSA
15:05 – 15:10: Introduction to the topic by Craig Calhoun, Chair
15:10 – 15:45: Keynote lecture by Jane Duckett
15:45 – 16:10: Comments from the discussants, Q&A
16:10 – 16:15: Closing remarks