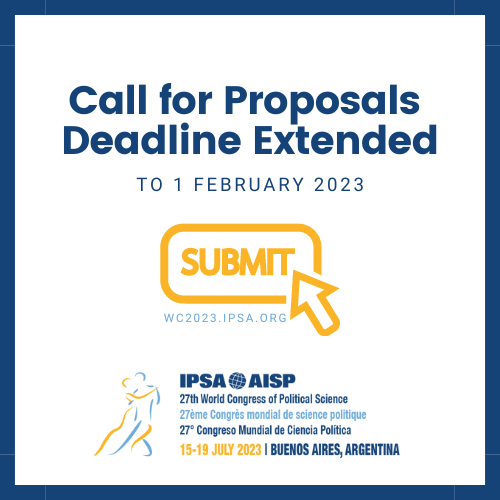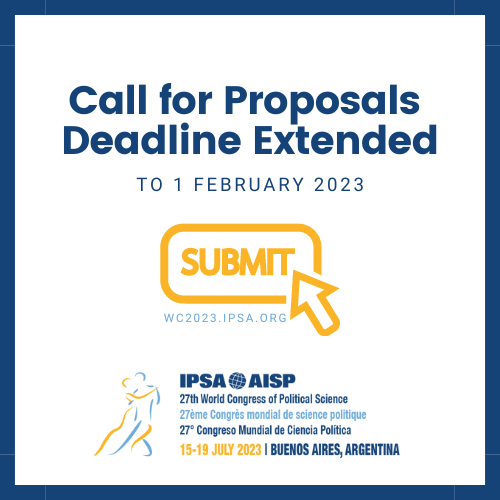 Call for Proposals Deadline Extended to 1 February 2023
Publication date: Tue, 17 Jan 2023
The Call for Proposals deadline for the 27th IPSA World Congress of Political Science on 15-19 July 2023 in Buenos Aires, Argentina, has been extended to 1 February 2023.
The 2023 IPSA World Congress of Political Science will have a diverse program under the theme Politics in the Age of Transboundary Crises. Paper and panel proposals on any political science-related subject are also welcome. 
We hope this extension will give everyone more time to submit a paper or panel proposal. Hundreds of high-quality papers and panels have already been submitted and we would like to thank everyone who has submitted their proposals.
More than 300 open panels are awaiting your paper abstracts. Select the ones best related to your research. Note that you can still submit Closed Panel proposals until 1 February 2023.
Paper Submissions 
Anyone can submit a proposal. However, you must be signed up for a free IPSA website account to submit a panel or paper proposal. To participate and register for the World Congress, you must become an IPSA member.  
Paper abstracts may be submitted to a session of interest or to a specific open panel within that session. The three types of sessions are:
Research Committee (RC) sessions; 
General Sessions (GS); 
Local Organizing Committee (LOC) Sessions.