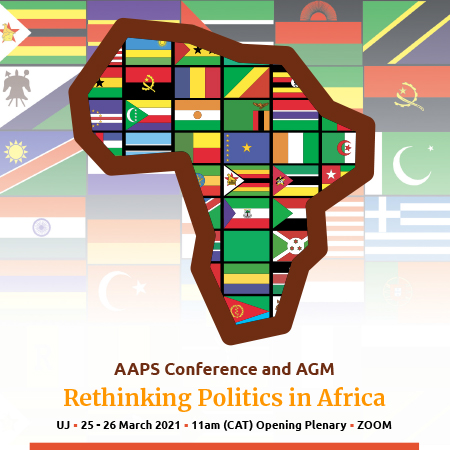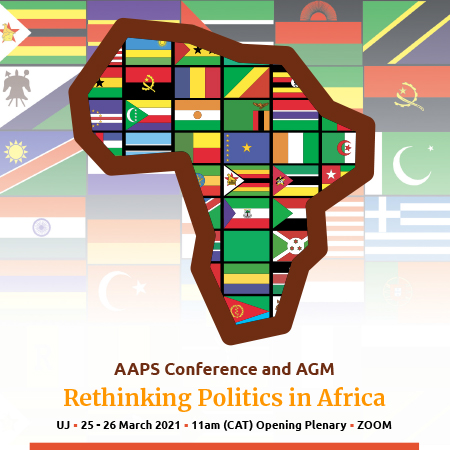 The African Association of Political Science (AAPS) Now Officially Relaunched; Prof Christopher Isike Elected President
Publication date: Tue, 30 Mar 2021
Following its revival in 2018, the African Association of Political Science (AAPS) was formally relaunched on 26 March 2021, with support from IPSA.
Historically, AAPS is the continental parent body of political scientists in Africa. It was launched in Dar es Salaam in 1974 as the leading platform for discussing African politics, governance, economy and society. AAPS was instrumental in calling into question models of development, state, leadership and knowledge as well as and policy prescripts from dominant global powers and international financial institutions, such as the IMF and the World Bank. In doing so, the AAPS raised issues that had bedevilled newly independent states and helped turn the hope of the 1960s into the impediments and nightmares of the 1970s, 1980s and 1990s. AAPS played a crucial role in conceptualizing for Africa the meaning of the end of the Cold War and the waves of democracy, as well as the African renaissance of the 2000s.
This relaunch was part of a two-day virtual conference on "Rethinking Politics in Africa" held on March 25 and 26, 2021, in conjunction with the association's annual general meeting (AGM).
The conference featured two keynote addresses: Prof. Shadrack Wanjala Nasong'o on "Political Science and African Politics: The Dialectics of Experience", and Prof. Peter Anyang' Nyong'o on "Rethinking African Politics for the Future: A Convergence of Theory and Praxis."
The event also featured welcome addresses and messages of support from AAPS Interim President, Prof. Siphamandla Zondi, Vice-Chancellor and Principal of the University of Johannesburg, Prof. Tshilidzi Marwala, Executive Secretary of the Council for the Development of Social Science Research in Africa, Dr. Godwin Murunga and Chief Executive Officer of the African Peer Review Mechanism, Prof. Eddy Maloka.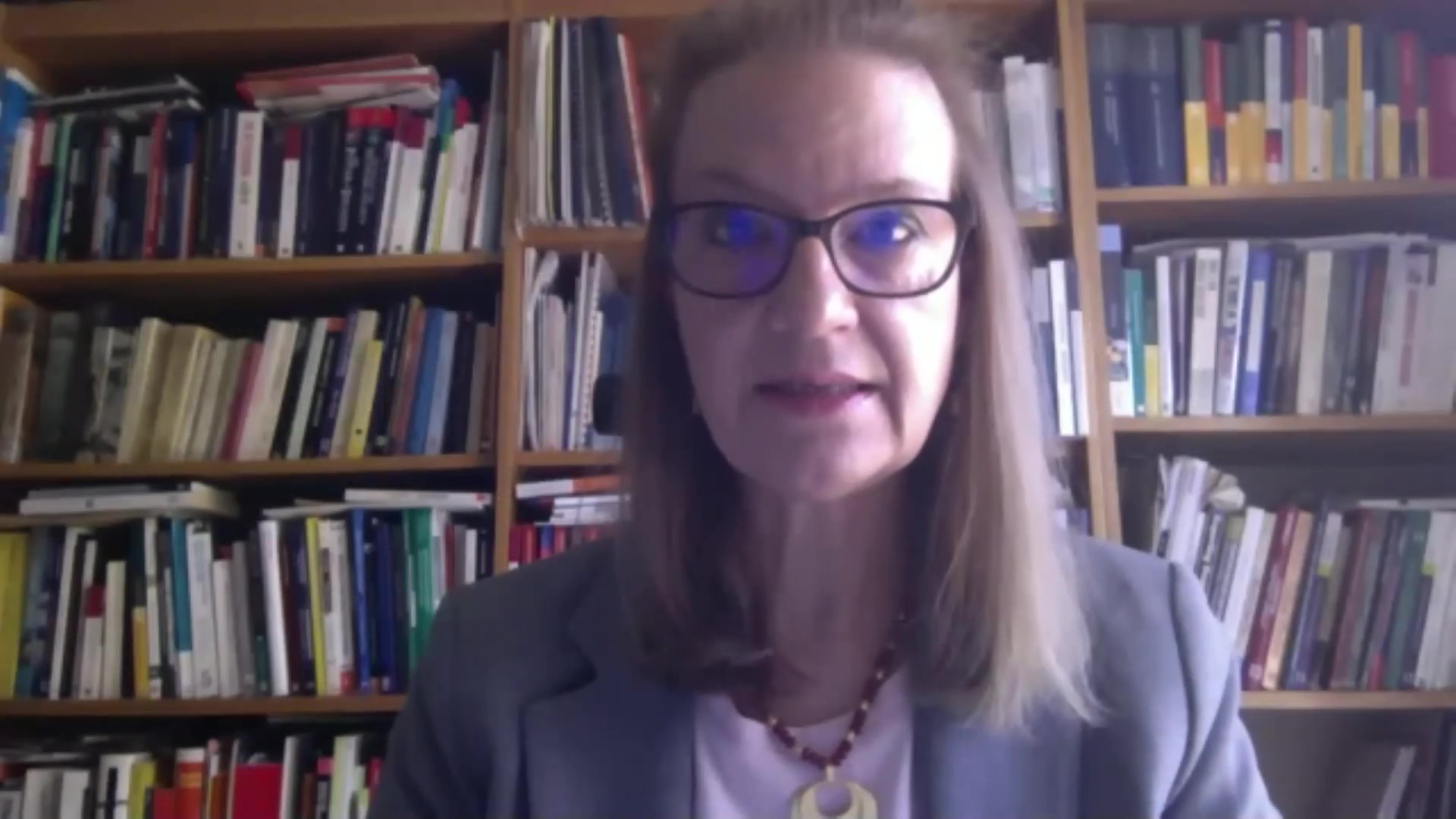 Prof. Dr. Marianne Kneuer, President of IPSA, also delivered a message of support on March 25. Here is the full text of her message:
Dear Professor Isike, dear President Zondi, dear honoraries, dear collegues,

It is my privilege to deliver this message of support today. On behalf of the International Political Science Association, I congratulate all the involved persons for their tremendous efforts in relaunching the African Association of Political Science. I especially want to highlight the year-long and relentless commitment of Professor Isike and Professor Zondi.

We all know that institutions can only be formed and persist on the basis of two conditions: there has to be a convincing idea, a rationale, and there has to be people who are filling these institutions with their spirit and their commitment in order to keep organizations and institutions working and working properly.

The African Association of Political Science, and the idea of a regional professional organization, emerged in 1974, earlier than in other regions by the way, and embodied a highly convincing idea.

I had the opportunity and felt very honoured to accompany the process of revitalizing the AAPS. I attended an inspiring meeting of Presidents and officials of political science in 2018, in Ghana, and subsequently other meetings. IPSA supports this relaunch since 2018 because we are convinced that such regional cooperation is fruitful in two main regards: for the regional exchange of national political science communities as well as for the representation of the regional voice within the international community.

Moreover, this pandemic we are experiencing for one year now has some lessons for scientific communities, in general, and political scientist, specifically. We have been forced to explore new and innovative ways on how to teach, how to do research, how to maintain our professional activities. And from the perspective of a global organization like IPSA, I can say that all these challenges can be better tackled and coped with in a collaborative and joint way.

Therefore, you are doing an eminently important step today in finalizing the process of revitalizing AAPS and in relaunching a good idea with a new team. Let me say that in these last years, I was impressed by the vigor of those people who were pushing this project of a regional organization and I am very confident that this spirit will carry on and sustain the relaunch of AAPS.

So, again, I want to transmit my heartfelt congratulations on behalf of IPSA for this relaunch and I wish the new leadership of AAPS all the best for the start of this project. At the same time, I want to express my highest appreciation for the interim leadership and their efforts to make this relaunch possible.

Please be assured that with IPSA, you have and will have a partner at your side in the future.

Now I wish that you have a fruitful conference and good discussions.

Thank you!

Message of support by Prof. Dr. Marianne Kneuer, President of the International Political Science Association (IPSA)
Christopher Isike elected President of AAPS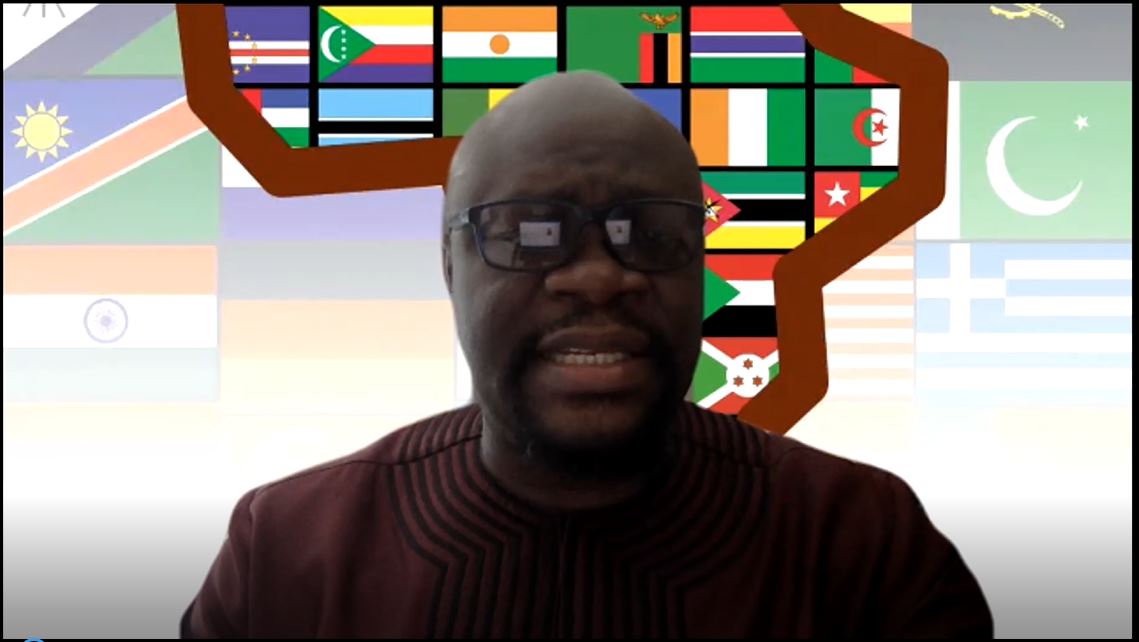 On the occasion of the AGM, Prof. Christopher Isike, IPSA Vice-President and Special Representative for Ethics, was elected President of the AAPS for a two-year term (2021-2023). 
Prof. Isike's election as the 16th President of the AAPS, following a lull in its activities between 2007 and 2017, is remarkable and historic. It marks the rebirth of an essential actor in African politics and development.
Prof. Isike delivered the following Presidential remark:
Thank you for reposing your confidence in me to lead a reinvented AAPS for the next two years. It is a vote of confidence I do not, and will, not take lightly.

We have spent long hours over the last 2 days on this conference and meeting of African political scientists; old and young, established and emerging so I shall be brief in making a few pledges here and giving you a sense of my vision for APPS over the next 2 years.

I promise to hand over AAPS to the next president alive and well. It means we will keep its current membership intact and grow new ones. Often times keeping the membership of an association is not seen as an achievement but when you consider how fast associations can die especially over disaffection within its fold and when a strong association as AAPS used to be in the 1990s dies suddenly and remains moribund for 10 years, you will appreciate why keeping it intact by 2024 will be an achievement.

In terms of mission and policy direction for the next 2 years, I shall work with the Executive committee to:

Institutionalize good governance. Having been at the EC of IPSA for 5 years now, I have learnt best practice for good governance benchmarks that AAPS will benefit from towards developing our own good governance charter which is critical to our survival over time.
Mainstream gender and youth into all AAPS leadership structures and ensure gender and diversity in AAPS research, publications and conference activities. I am glad our core EC Officers (President, VP, Secretary and Treasurer) has a gender balance of 50/50 with youth represented also.
Internationalise AAPS and its activities across the world with strong representation in all IPSA activities
Support the establishment of national political science associations in Africa
Resuscitate our AAPS journal the African Journal of Political Science (AJPS) as an open access online journal 

There is consensus within the political science and related fraternities today that there is a need for an association to help provide platforms for tackling the old and new political questions of our time.  Such an association would build on the legacy of AAPS, but reach further in relation to issues, facilities and challenges of our time today. Therefore, the launch conference for the new association looks back into the AAPS days in order to look forward into emerging issues and questions both in its intellectual agenda and in the manner in which it will be managed. It will draw in national associations, national departments in political science and related fields, individual scholars including emerging scholars from the continent and in the African diaspora.

On behalf of the newly elected Executive Committee of AAPS, I would like to thank you for attending our 16th Conference and General Meeting. We deeply appreciate all your contributions as presenters, session chairs, discussants, and attendees. Your dedication to participate in the conference shows your commitment and support for expanding AAPS. 

As President of the Executive Committee, I pledge our commitment to work hard along with my colleagues to advance the study and teaching of Political Science across Africa and build long-lasting relationships with colleagues and organizations in and out of the continent.

Thank you for your time.

Presidential Remark by Prof. Christopher Isike, President of the African Association of Political Science (AAPS)
The following Executive Committee members was elected at the General Meeting of 26 March:
1. President – Prof. Christopher Isike (South Africa)
2. Vice-President – Prof. Nadine Machikou (Cameroun)
3. Secretary – Prof. Boniface Dulani (Malawi)
4 Treasurer – Ms. Dikeledi Mokoena (Youth, South Africa)
5. Regional Coordinator – Prof. Julien Bokilo (Central Africa)
6. Regional Coordinator – Prof. Asnake Kefale (East Africa) 
7. Regional Coordinator – Prof. Ahmed Morsy (North Africa)
8. Regional Coordinator – Prof. Annie Chikwanha (Southern Africa)
9. Regional Coordinator – Prof. Godwin Onu (West Africa)
Interim leadership: February 2018 - March 2021
1. Interim President – Prof. Siphamandla Zondi 
2. Member – Prof. Godwin Onu 
3. Member – Prof. Christopher Isike
For more information about AAPS, please visit their website at https://www.aapsrising.com