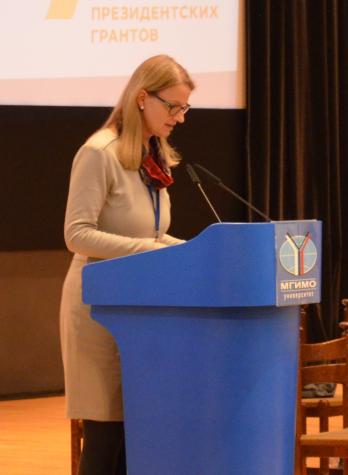 More than 1000 political scientists from 60 regions of Russia and 37 countries participated in the 8th Russian Congress of Political Science in Moscow on December 6-8, 2018. The Congress featured over 100 sessions of Research Committees and roundtables focused on the theme "Development Policy: a State and World Order."
IPSA President Prof. Marianne Kneuer and past President Prof. Ilter Turan attended the Congress and greeted its participants on behalf of IPSA. In her address, Prof. Kneuer presented an overview of the role of political science in the modern world, stressing the importance of IPSA cooperation with its regional partners to meet challenges facing our scientific community. These include issues of academic freedom, gender and diversity, and norms and procedures concerning ethical conduct. She concluded by inviting everyone to IPSA's 70th anniversary celebration that will be held in Paris (France) in November 2019 and to the 2020 IPSA World Congress of Political Science in Lisbon (Portugal).
The Congress received a message of recognition from the Russian Foreign Minister V. Lavrov. The group was also addressed by Prof. Kris Deschouwer, Chair of the European Consortium for Political Research (ECPR) Executive Committee, Prof. Paolo Cotta-Ramusino, Secretary General of the Pugwash Conferences on Science and World Affairs, and Deputy Speakers of upper and lower chambers of the Russian Parliament.