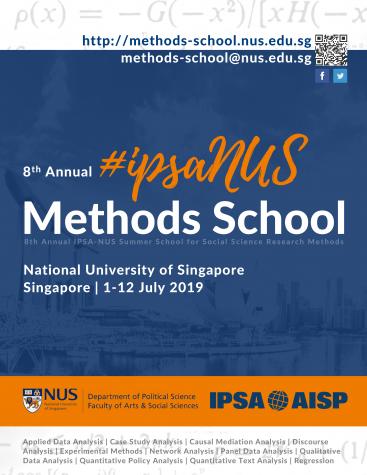 The 8th Annual IPSA-NUS Summer School for Social Science Research Methods will take place at the National University of Singapore on July 1-12, 2019.
The Methods School offers a wide variety of basic to advanced courses in quantitative, qualitative, and formal research methods. All courses focus on both the theory and practice of social science research. Participants receive excellent hands-on training in state-of-the-art methods and techniques from our highly experienced international faculty.
Methods School will offer the following one- and two-week courses in 2019:
Applied Data Analysis (Tobias Hofmann, University of Utah)

Case Study Analysis (Cameron Thies, Arizona State University)

Discourse and Visual Analysis I & II (Terrell Carver, University of Bristol)

Experimental Methods (Jason Barabas and Jennifer Jerit, Stoney Brook University)

Network Analysis I & II (Adam Henry, University of Arizona)

Qualitative Data Analysis I & II (Marie-Hélène Paré, Open University of Catalonia)

Quantitative Public Policy Analysis I & II (Bruno Cautres, Science Po Paris)

Quantitative Text Analysis I & Quantitative Text Analysis II (Dani Madrid-Morales, University of Houston)

Regression Analysis (Katsunori Seki, University of Tsukuba, and Guy Whitten, Texas A&M University)

Causal Mediation Analysis (Andrew Li, Central European University)

Panel Data Analysis (Andrew Li, Central European University)
Additional courses will be announced soon.
Register by March 31, 2019 for "Early Bird" discounts!
For more information on Methods School courses and instructors, financial aid, registration discounts, and more, visit the website or contact methods-school@nus.edu.sg.
Like us on Facebook: https://www.facebook.com/MethodsSchool
Follow us on Twitter: https://twitter.com/MethodsSchool