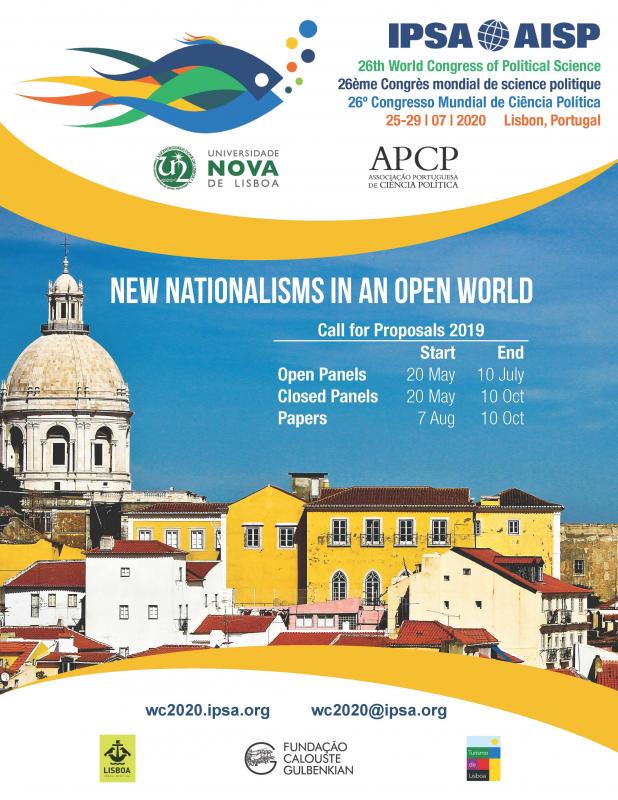 Welcome!
We are very pleased to invite our colleagues from around the world to Lisbon, Portugal for the 26th IPSA World Congress of Political Science, between 25 and 29 July 2020.

The Congress will have a diverse program under the theme New Nationalisms in an Open World, which will be coordinated by the Program Co-Chairs Prof. Bertrand Badie and Professor Hasret Dikici Bilgin.
New Nationalisms in an Open World
With the beginning of the present millennium, varieties of a new type of nationalism spread through the world and this propagation engenders a paradox as its spectacular rising occurs in a period which is characterized by openness, globalization and interdependence. Historically, nationalism as an ideology has risen as a response to rapid change; the contemporary context of openness, globalization and interdependence therefore shapes the type of nationalisms in the present millennium. Besides, new nationalism rises in both the affluent and destitute societies which in turn shapes the way the new nationalism manifests itself. Hence, what we observe today can be rather referred to as new nationalisms. The rise of the varieties of new nationalism and its implications on international politics requires posing some key questions in order to attain a more sophisticated level of understanding. What is new nationalism, who are the new nationalist leaders and what are the similarities and differences between the new nationalisms and its predecessors? How can we interpret and classify new nationalisms taking populism, authoritarianism and ethnicism into consideration together with new nationalism? Finally, what are the potential ramifications of new nationalism on political mobilization, electoral behavior, political systems as well as on global governance and international relations?
The Congress will provide a great opportunity to present your work and discuss political science and international relations with scholars from all over the world. It will have particularly strong regional representation since it will also integrate the biennial Congress of the Portuguese Political Science Association.
Keep an eye on the call for proposals opening on 20 May 2019.
We will be receiving you at the Nova University Campus of Campolide, close to Lisbon's center, where you can enjoy a view over the city and easily walk or take public transports to visit the many sights, restaurants, monuments that the city has to offer.
We look forward to see you in Lisbon in 2020!
Local Organizing Committee (LOC)
Madalena Meyer Resende, NOVA University of Lisbon (LOC Co-chair)
Carlos Jalali, University of Aveiro (LOC Co-chair)
Andrés Malamud, University of Lisbon
António Costa Pinto, University of Lisbon
Ana Mónica Fonseca, ISCTE-University Institute of Lisbon
João Carlos Espada, Catholic University of Portugal
João Cardoso Rosas, University of Minho
Pedro Magalhães, University of Lisbon
Pedro Tavares de Almeida, NOVA University of Lisbon
Nuno Severiano Teixeira, NOVA University of Lisbon
Ana Belchior, ISCTE-University Institute of Lisbon
Raquel Freire, University of Coimbra
Raquel Vaz-Pinto, NOVA University of Lisbon
Edalina Rodrigues Sanches, University of Lisbon
Manuel Meirinho Martins, University of Lisbon
Marina Costa Lobo, Social Sciences Institute of the University of Lisbon
Bruno Rocha, NOVA University of Lisbon (Postgraduate Representative)
Sandra Dias Fernandes, University of Minho