IPSA Summer School - Singapore 2014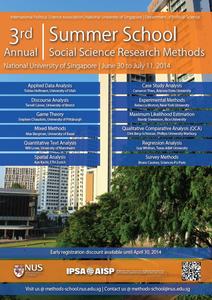 IPSA-NUS 3rd Summer School for Social Science Research Methods 2014
June 30, 2014 - July 11, 2014
National University of Singapore
Singapore
The National University of Singapore's Department of Political Science is proud to announce the 3rd Annual IPSA-NUS Summer School for Social Science Research Methods, June 30-July 11, 2014. The Methods School is organized in cooperation with the International Political Science Association. IPSA's mission is to promote empirical research in political science and related disciplines around the world, and the IPSA-NUS Methods School forms the Asian-Pacific hub in a global network of methods programs, with other summer schools hosted at the University of São Paulo, the University of Stellenbosch, and the Middle East Technical University.
The IPSA-NUS Methods School offers rigorous training with outstanding and highly experienced international faculty in a wide range of social science research methods. Students, post-doctoral fellows, junior faculty, civil servants, professionals, and everyone with an interest in research methods can choose between twelve different quantitative, qualitative, and formal methods courses and benefit from intensive, hands-on coursework over a two-week period.
In addition to the regular class meetings, lab sessions, and exercises, the Methods School organizes the IPSA-NUS International Speakers Series and offers various info sessions on such topics as academic writing and publishing. It creates a unique and supportive social environment that facilitates networking and encourages the exchange of ideas about the theory and practice of social science research.
For 2014, we added a number of new, basic and advanced courses to the existing Methods School roster. Overall, the Methods School offers twelve courses in quantitative, qualitative, and formal methods. All of these courses focus on both the theory and practice of social science research and provide high-quality training in diverse, state-of-the-art methods and techniques by outstanding and highly experienced international faculty.
Join us for two weeks of rigorous training in social science research methods and truly global networking opportunities. Acquire cutting-edge quantitative, qualitative, and formal methods skills, meet future collaborators and co-authors, and make new friends with similar research interests from all over the Asia-Pacific, the U.S., Europe, and beyond.
As the Methods School is a non-profit venture, course fees have been priced accordingly and represent excellent value when compared to similar events in the U.S. and Europe (compare!) while offering the same quality of instruction.
Join us on a journey of learning and discovery! Join us in one of the world's most fascinating cities. Join us in the Lion City of Singapore!
Early registration discount available until April 30, 2014
Details are available online at http://methods-school.nus.edu.sg/
If you have questions or require any additional information, please contact the IPSA-NUS Methods School team. For up-to-the-minute information about the latest Methods School activities, you can also like the Methods School Facebook page or follow us on Twitter (@MethodsSchool).