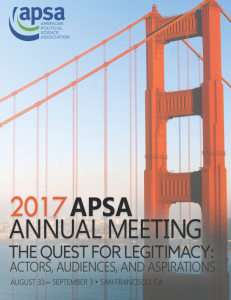 IPSA sent a strong contingent to the 2017 American Political Science Association (APSA) Annual Meeting held in San Francisco (USA) from August 31 to September 3, 2017.
Ted Lowi Award
President İlter Turan and Secretary General Guy Lachapelle were present at the APSA Awards Ceremony on Wednesday evening, where they presented the Ted Lowi Award, together with Graham Wilson (chair of the Lowi Award Committee).
The Lowi Award recognizes the author of a first book in any field of political science that exemplifies qualities of broad ambition, high originality, and intellectual daring, showing promise of having a substantive impact on the overall discipline, regardless of method, the specific focus of inquiry or approach to the subject. The award carries a cash prize of $750.00.
On this occasion, the APSA-IPSA Theodore J. Lowi First Book Award has been awarded to Dara Kay Cohen for her first book titled Rape During Civil War, published by Cornell University Press.
IPSA Panels
IPSA sponsored a panel chaired by IPSA Vice-President Marianne Kneuer, under the following theme: "How Do Authoritarian Regimes Deal with the Quest of Legitimacy?"
Two IPSA Research Committees (RC) also held panels under the theme "Biology and Politics" (RC12, chaired by Kevin Costa, Radio France Internationale) and "Legitimacy, Soft Power, and Authority" (RC36, chaired by Philip G. Cerny, Manchester/Rutgers).
IPSA Exhibition Booth
The IPSA Secretariat dispatched Membership Services and External Relations Director, Mathieu St-Laurent, to the event. Mr. St-Laurent manned a booth and met the participants, exhibitors as well as APSA representatives.
Meetings
President Turan and Mr. St-Laurent took part in various meetings, including for leaders of international and regional political science associations. They discussed common issues with the leadership of other associations, including academic freedom, association policies, and codes of conduct at events.