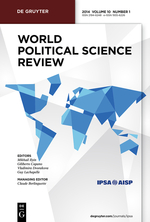 (Une version française suivra)
IPSA edited its first issue of the World Political Science Review. Individual IPSA members may view the online content free of charge by logging into their account, and the content is also available for purchase on the De Gruyter website.
Copies will soon be sent to members who have opted in to receive the printed issues.
About World Political Science Review (to be renamed World Political Science in January 2015)
ISSN 2194-6248, e-ISSN 1935-6226
The World Political Science Review (WPSR) is a journal co-owned by the International Political Science Association and published by De Gruyter. It publishes translations of prize-winning articles nominated by prominent national political science associations and journals around the world. Scholars in a field as international as political science need to know about important political research produced outside the English-speaking world. WPSR gathers together and translates an ever-increasing number of countries' best political science articles, bridging the language barriers that have made this cutting-edge research inaccessible up to now.
Articles in the World Political Science Review cover a wide range of subjects of interest to readers concerned with the systematic analysis of political issues facing national, sub-national and international governments and societies. Fields include Comparative Politics, International Relations, Political Sociology, Political Theory, Political Economy, and Public Administration and Policy. Anyone interested in the central issues of the day, whether they are students, policy makers, or other citizens, will benefit from greater familiarity with debates about the nature and solutions to social, economic and political problems carried on in non-English language forums.
World Political Science Review is published by De Gruyter. For more information regarding the content of past issues, please visit their website.
Editors
Prof. Vladimíra Dvořáková
Prof. Mikhail Ilyin
Prof. Guy Lachapelle

Table of content (Volume 11, no 2)
Party System Institutionalization: The Cases of Italy and the Federal Republic of Germany
Castaldo, Antonino
Page 187
E-Government and Corruption: A Cross-Country Survey
Choi, Jin-Wook
Page 217
The Formation of the Japan-ROK Security Relationship: The Response to the "Security Crisis" of 1968 under the Divided System of the Korean Peninsular and "Security Economic Cooperation"
Choi, Kyungwon
Page 237
Toward a Better Fiscal Governance?
Damonte, Alessia
Page 261
Towards a Political Theory of the Market Economy
Nullmeier, Frank
Page 281
Political and Economic Effects on Greenhouse Gas Emissions – a Quantitative Study
Lægreid, Ole Martin
Page 313
A Special Majority Cabinet? Supported Minority Governance and Parliamentary Behavior in the Netherlands
Otjes, Simon / Louwerse, Tom
Page 343
Negative and Personalized Campaign Rhetoric: Party Communication and Media Coverage of Danish Parliamentary Elections 1994–2011
Elmelund-Præstekær, Christian / Mølgaard-Svensson, Helle
Page 365
Liberal and Radical Democracies: The Swiss Cantons Compared
Bühlmann, Marc / Vatter, Adrian / Dlabac, Oliver / Schaub, Hans-Peter
Page 385

***************
L'AISP est fière d'annoncer la publication de sa première édition de World Political Science Review. Le contenu en ligne de la revue est offert gratuitement à tous les membres individuels de l'AISP, par le biais de leur compte AISP. La revue est également disponible pour achat sur le site de De Gruyter.
Des copies seront envoyées à tous les membres de l'AISP qui en ont fait la requête lors du renouvellement de leur abonnement.
À propos de World Political Science Review (renommé World Political Science en janvier 2015)
ISSN 2194-6248, e-ISSN 1935-6226
Le journal World Political Science Review (WPSR) est une co-propriété de l'Association internationale de science politique et de la maison d'édition De Gruyter. WPSR publie des traductions d'articles primés et recommandés par des associations nationales de science politique et des revues du monde entier. Les chercheurs d'un domaine aussi international que la science politique doivent connaître la recherche importante qui s'effectue en dehors du monde anglophone. WPSR rassemble et traduit un nombre toujours croissant des meilleurs articles nationaux publiés en science politique, et réduit les barrières linguistiques qui rendu cette recherche de pointe inaccessible jusqu'à présent.
Les articles publiés dans WPSR couvrent un large éventail de sujets d'intérêt pour les lecteurs préoccupés par l'analyse systématique des questions politiques qui ont trait à la sociétée et aux gouvernements nationaux, sous-nationaux et internationaux et des sociétés. Les champs d'étude abordés incluent la politique comparée, les relations internationales, la sociologie politique, la théorie politique, l'économie politique ainsi que l'administration et les politiques publiques. Toute personne intéressée par les questions centrales marquant l'actualité (étudiants, décideurs politiques, ou autres citoyens) bénéficiera d'une plus grande familiarité avec les débats sur la nature et les solutions aux problèmes sociaux, économiques et politiques dont il est question dans les forums non anglophones.
Éditeurs
Prof. Vladimíra Dvořáková
Prof. Mikhail Ilyin
Prof. Guy Lachapelle
World Political Science Review est publié par De Gruyter. Pour plus d'informations sur le contenu du journal, veuillez visiter leur site web.

Table des matières (Volume 11, no 2)
Party System Institutionalization: The Cases of Italy and the Federal Republic of Germany
Castaldo, Antonino
Page 187
E-Government and Corruption: A Cross-Country Survey
Choi, Jin-Wook
Page 217
The Formation of the Japan-ROK Security Relationship: The Response to the "Security Crisis" of 1968 under the Divided System of the Korean Peninsular and "Security Economic Cooperation"
Choi, Kyungwon
Page 237
Toward a Better Fiscal Governance?
Damonte, Alessia
Page 261
Towards a Political Theory of the Market Economy
Nullmeier, Frank
Page 281
Political and Economic Effects on Greenhouse Gas Emissions – a Quantitative Study
Lægreid, Ole Martin
Page 313
A Special Majority Cabinet? Supported Minority Governance and Parliamentary Behavior in the Netherlands
Otjes, Simon / Louwerse, Tom
Page 343
Negative and Personalized Campaign Rhetoric: Party Communication and Media Coverage of Danish Parliamentary Elections 1994–2011
Elmelund-Præstekær, Christian / Mølgaard-Svensson, Helle
Page 365
Liberal and Radical Democracies: The Swiss Cantons Compared
Bühlmann, Marc / Vatter, Adrian / Dlabac, Oliver / Schaub, Hans-Peter
Page 385