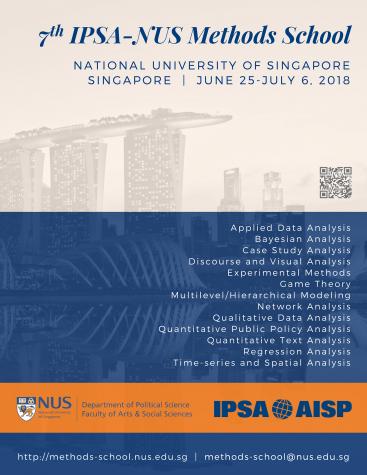 The 7th Annual IPSA-NUS Summer School for Social Science Research Methods was held in Singapore, June 25-July 6, 2018. Organized by the National University of Singapore's Department of Political Science in cooperation with the International Political Science Association, the Methods School is recognized as the leading program for basic and advanced methods training in the Asia-Pacific and brings together participants from all over the region as well as Africa, Europe, and North America. 
This year's Methods School was attended by 166 graduate students, faculty members, and professionals, who took up to four quantitative and qualitative methods courses. All courses provided participants with rigorous, hands-on training in state-of-the-art research methods and were taught by highly experienced international faculty.
The following one- and two-week Methods School courses were offered in 2018:
Methods School participants also had the opportunity to attend the IPSA-NUS International Speaker Series, various info sessions on such topics as academic writing and publishing and applying for academic positions and grants, as well as to participate in a number of social activities.