Department/Unit
The Department of Political and Social Sciences
Zeppelin University
Friedrichshafen
Germany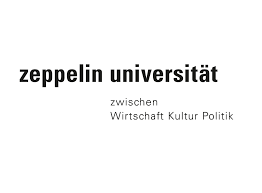 The Department of Political and Social Sciences at Zeppelin University (Friedrichshafen, Lake Constance, Germany) invites applications for the position of a (Full) Professor of Comparative Political Science with Focus on European Institutions. The position is to be filled at the earliest possible opportunity.
In his or her teaching, the holder of the chair will cover the area of comparative political science in its whole range, but will give emphasis to the political processes in the countries of Europe and in the European Union. He or she will be responsible for modules concerned with international comparative analysis in the degree programmes of Politics, Administration and International Relations (PAIR) and Sociology, Politics, and Economics (SPE). Possible areas of research and teaching include, but are not limited to, Parties in Europe, Parliaments and Governments, European Institutions, Reforms of Political Institutions, or Decision- Making in Systems of Multilevel Governance. These topics are approached in a combination of empirical and theoretical perspectives.
The successful applicant has a track record of excellent research, demonstrated by publications in internationally recognized peer-reviewed journals and/or the successful acquisition of competitive research grants. In addition, he or she will have excellent educational abilities and provide well-designed and sophisticated courses to the university's bachelor and master programmes, and potentially to executive education programmes.
A commitment to engage in interdisciplinary research and to participate in the acquisition of competitive research funding is especially welcome. Furthermore, it is expected that the successful candidate is willing to participate in academic self-governance activities. Eligible candidates have a relevant doctoral degree and a distinguished record of post-doctoral research and teaching, demonstrated by internationally visible publications, a successfully completed Habilitation, a Junior-Professorship with positive evaluation, or a similar certificate of post-doctoral qualification.
Zeppelin University is an Equal Opportunity Employer. Qualified applicants with disabilities will be given priority. Zeppelin University supports the compatibility of family and work and promotes gender equality in science.
Applications with the usual documents should also include PDFs of the applicant's most important 3 publications to date, to be send electronically to Ms Karin Muehl: karin.muehl@zu.de
To ensure full consideration, applications must have been received by 1st October 2017.
For additional information please contact: Martin Elff: martin.elff@zu.de