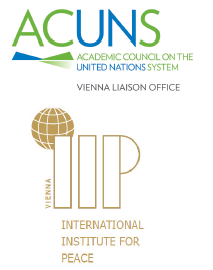 Event Information
Location
The Academic Council on the United Nations System
Synopsis
The Academic Council on the United Nations System, Vienna Liaison Office, is pleased to announce a call for papers for its international conference on peace-making and conflict management, the Vienna Peace Studies Conference 2018.
The conference will focus on successful examples of peace-making, peacekeeping, trust building. and enhancing dialogue between hostile communities. The conference will
provide an opportunity for young academics, graduate students, scholars, practitioners, and subject-matter experts from around the world to come together and share their knowledge and expertise on matters relating to peace, security, development, and the United Nations system. The conference aims to establish itself as a key forum for dialogue on positive and sustainable peace.
Invited Speakers
Dr. Heinz Fischer, former President of Austria; Dr. David Malone, Rector, United Nations University; Mr. Farid Zarif, Special Representative for UNMIL; Dr. Michael Spindelegger, Director General ICPMD; Ms. Heidi Hulan, Ambassador of Canada to Austria; Dr. Alistair Edgar, Executive Director, Academic Council on the United Nations System; Professor Heinz Gaertner, University of Vienna; Mag. Gudrun Kramer, Director Austrian Study Center for Peace; Mr. Mohammad Nizamuddin, Chair, Punjab Higher Education, Pakistan; Brigadier Walter Feichtinger, Austrian National Defence Academy; Dr. Adam Lupel, President, International Peace Institute; Professor Mike Hardy, Executive Director CTPRS, Coventry University; Mr. Aldo Lale Demoz, former Director, UNODC
Hosted By
Academic Council on the United Nations System, Vienna Liaison Office and
International Institute for Peace
With Support From
Austrian Study Center for Peace and Conflict Resolutaion (ASPR),
Austrian Institute for Peace,
Diplomatische Akademie Wien-Vienna School of International Studies,
National Defense Academy,
University of Vienna,
University of Graz,
Sigmund Freud University Vienna,
Coventry University United Kingdom,
Vienna Center for Disarmament and Non Proliferation,
University of Punjab Lahore, Pakistan,
United Nations Office of Drugs and Crime (UNODC)