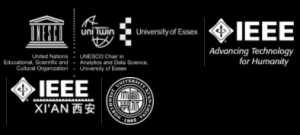 Our lives and society have been transformed by advances in modern information and communication technologies. Devices such as mobile phones and tablets and applications such as social networks have changed how we interact with the world around us and each other and the way we conduct business, government and science. With computational technologies permeating almost all aspects of human activity the amount of data being generated is constantly increasing and we are surrounded by a wealth of new forms of data. We are at the cusp of a new data and information revolution.
This proliferation of data calls for novel, multi and interdisciplinary approaches in data science and analytics to tackle the problems that data pose. New approaches for harnessing data and drawing insights will bring huge benefits to fields as diverse as health, finance, running smarter cities, the environment, business and public policy.
The First International Conference on Frontiers and Advances in Data Science and Analytics (FAADS) will bring together scientists, professionals, industry practitioners and users from range of disciplinary backgrounds and application domains to share knowledge and the latest developments in data science and analytics.
We invite the submission of original and previously unpublished theoretical and practical work in all fields of data science and analytics including methodologies and techniques for big data. All submissions will be reviewed by at least two members of the Program Committee on the basis of novelty, technical quality, relevance to the conference theme, significance, and clarity of presentation. Accepted papers will be submitted for inclusion into IEEE Xplore.
Important Dates
Paper Submission deadline: 23rd July 2017
Notification of acceptance: 20th August 2017
Camera-ready Manuscript: 1st September 2017
Registration deadline: (for accepted papers): 10th September 2017
General Chairs
Prof Maria Fasli, UNESCO Chair in Analytics and Data Science, University of Essex
Prof Peng Jinye, Dean of School of Information Science and Technology, Northwest University
Program Chairs
Prof Hangzai Luo, Northwest University, China
Prof Frank Wang, University of Kent, UK
Prof Mohammad Essaaidi, ENSYAS, Morocco
Prof Bruce, Bassett, University of Cape Town; AIMS, South Africa
Publicity and Publication Chairs
Dr Daniel Karapetyan, University of Essex, UK
Dr Laith Al-Jobouri, University of Essex, UK
Contact Information: fads@essex.ac.uk; iads@essex.ac.uk