Organization
Israeli Political Science Association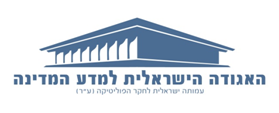 The Israeli Political Science Association is soliciting nominations for a new annual award to a scholar who has made an outstanding theoretical or empirical contribution to the study of Political Science, broadly defined.

Members of the award committee are professors Bryan Jones (University of Texas), Nicholas Valentino (University of Michigan), and Alex Mintz (IDC Herzliya, Chair of the ISPSA Award Committee).

Please send nomination letters and a CV of the nominee, to Prof. Alex Mintz, at mintz.alex@idc.ac.il  by 1st of October, 2017.

The winner will get a $1000 award. Self-nominations are accepted.
Our website: http://www.ispsa.org/home-en